Tuesday, August 1st, 2017 by Julian Karsunky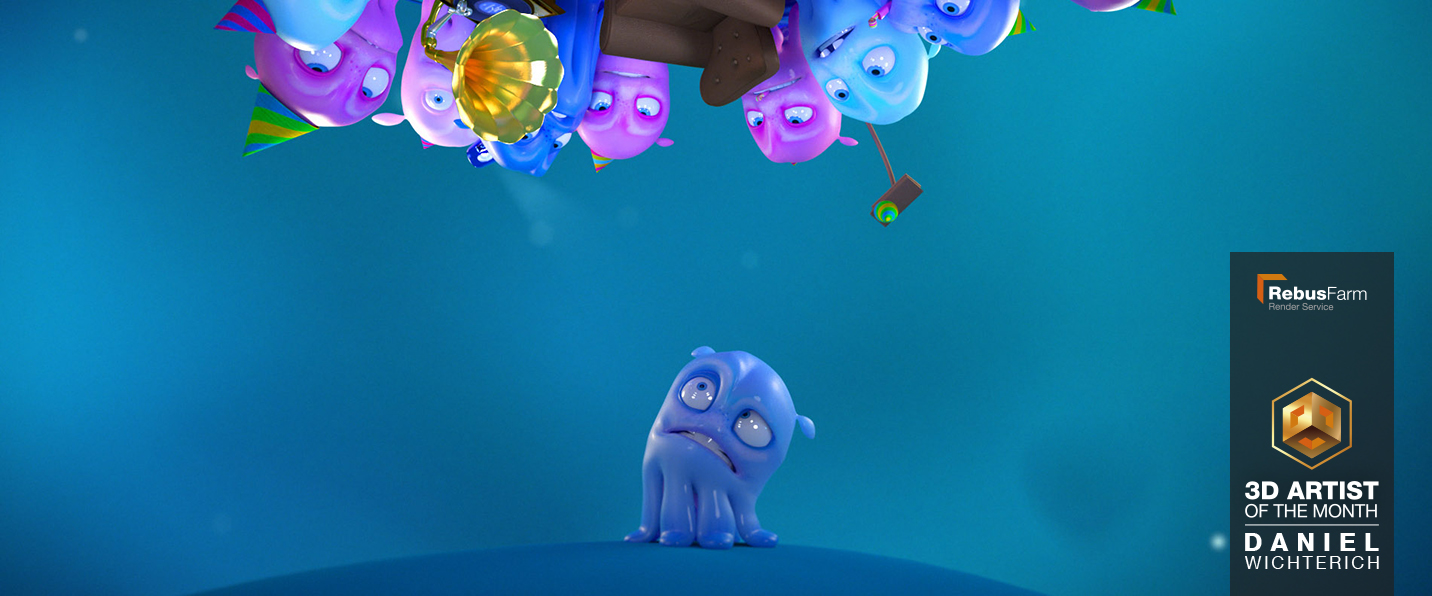 It's party time! Join us in celebrating Daniel Wichterich, the August 2017 winner of our 3D Artist of the Month competition. An expertly composed promotional still for a planned feature film, his submission offers but a small glimpse into the bright and colorful world of 'Jason and the Nucleonauts', a fast-paced story of adventure, friendship and nuclear physics. Put on your party hats and continue reading to find out more about what just might end up becoming the next animated smash hit at the box office.    
Developing and producing a full length animation movie based on an original IP in this day and age is ambitious for any studio, but a look at the teaser above should convince you that Daniel Wichterich and his small team over at studioNICE are more than up to the task. Born from the desire to dedicate themselves to a larger project for an extended period of time, 'Jason and the Nucleonauts' is a departure from the Berlin based company's usual work only in terms of scale: Since its foundation in 2012, character-driven animation has been the studio's bread and butter in regards to commissions and independent productions alike. 
Highly stylized and cartoonish visuals are the defining characteristics of the CGI work of studioNICE. "The race towards photorealism was never one we wanted to join", Daniel describes his artistic vision. "Of course it's hard to compete with big budget productions, but more important to us is to enjoy the creative freedom in exploring different forms of art direction." 
As a 3D generalist, Daniel considers himself a storyteller first and foremost, aiming to convey narrative meaning through the means of visual design and animation. This understanding of his craft naturally lends itself to the pursuit of a more focused and at the same time less constrained medium of artistic expression: the feature film.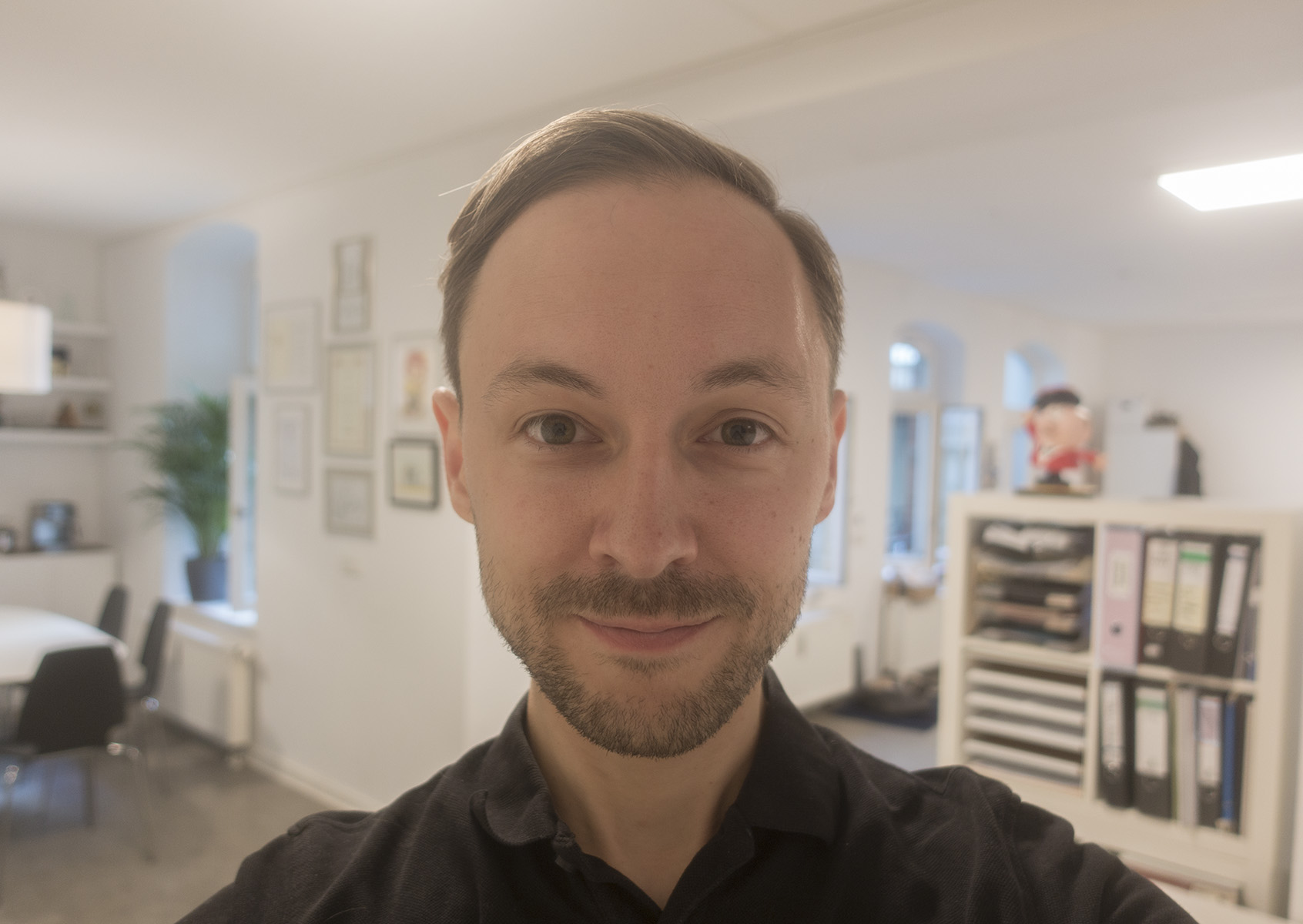 Daniel Wichterich
The premise for 'Jason and the Nucleonauts' reads as follows: 
While visiting his father, a nuclear physicist at CERN laboratory, eleven-year old Jason stumbles upon a map to the elusive Higgs boson and embarks on a fantastic journey to the microcosmic fabric of reality itself - the core of the atomic nucleus. On his quest he is aided by the Nucleonauts, friendly spacefaring particles and has to fend off evil invaders in their dark matter fueled pirate ships. 
What might sound like a thinly veiled physics lesson on paper, is elevated to a highly imaginative and entertaining adventure when put in motion. The antics of the 'Gluons', the cute and charming creatures prominently featured in the teaser, perfectly set the mood for humorous and light-hearted fun. As its target audience is children age 7 to 12, Daniel nonetheless intends to maintain a certain level of educational integrity: "We think it's a great chance to excite a young audience for a vibrant world and en passant pique their curiosity for the natural sciences." Smiling, he adds: "We're living in a world which is becoming more and more complex - for kids of today it's never too early to learn about quantum mechanics."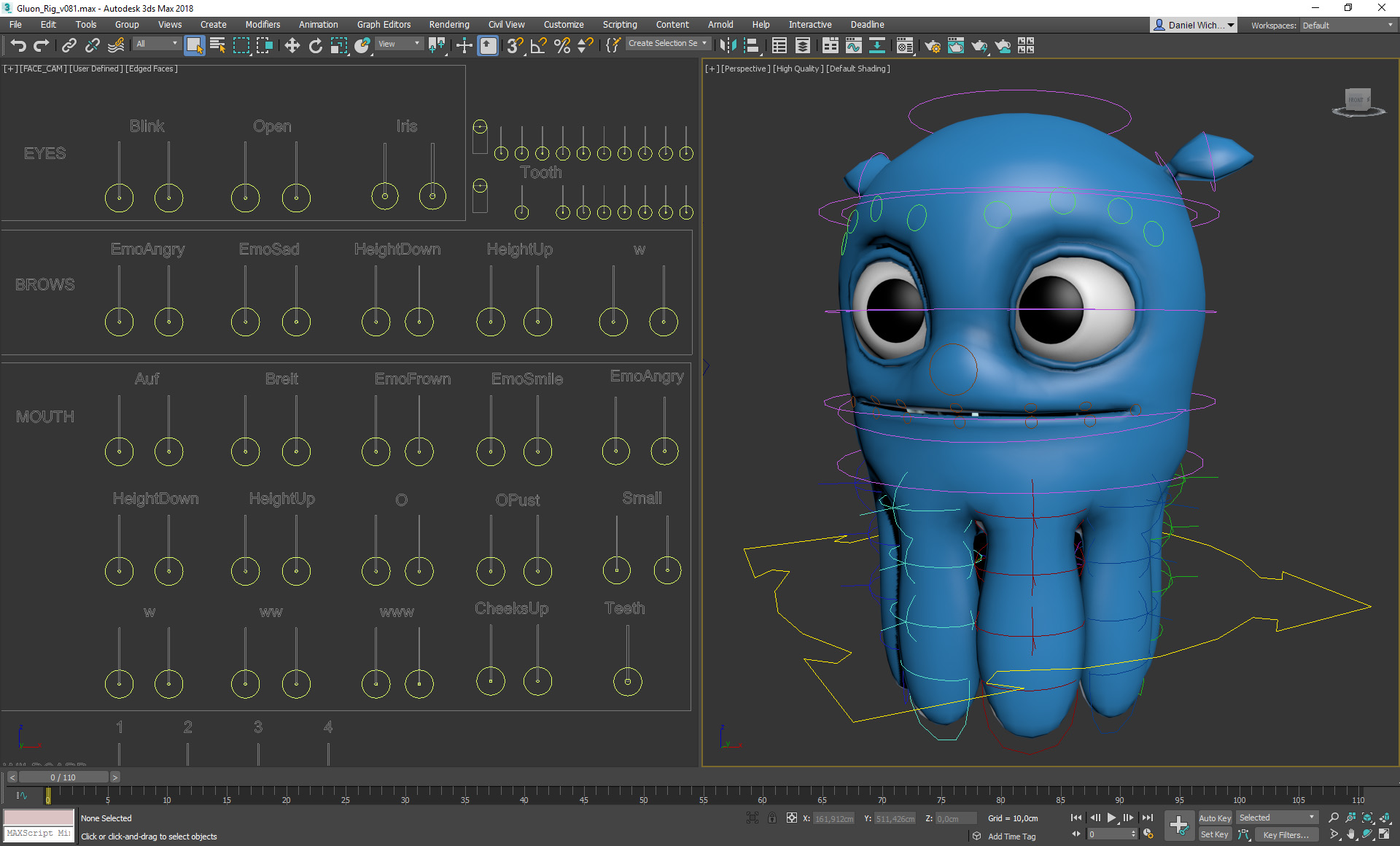 The finished character rig of a Gluon with the controls for facial animation displayed on the left.
The smooth and highly expressive animations seen in the teaser were achieved by what Daniel refers to as "our standard pipeline": Autodesk 3ds Max, V-Ray and Adobe After Effects. "For a small team like ours, this is a quick, flexible and powerful setup. It enabled a core team of just three people to create this teaser in about three weeks from start to finish.
For the character rigs we used the 'LH-Auto-Rig'. The Gluon's slimy surface was done with the help of V-Ray's implementation of Anders Langland's alShader for the first time and we were very pleased with the results."
Speaking of quick and flexible solutions, Daniel also commended the RebusFarm render service, once again emphasizing its value for smaller studios: "I'm particularly delighted by the seamless implementation into the software. It's a great way to scale our render power without setting up a render farm in-house and having people maintain it."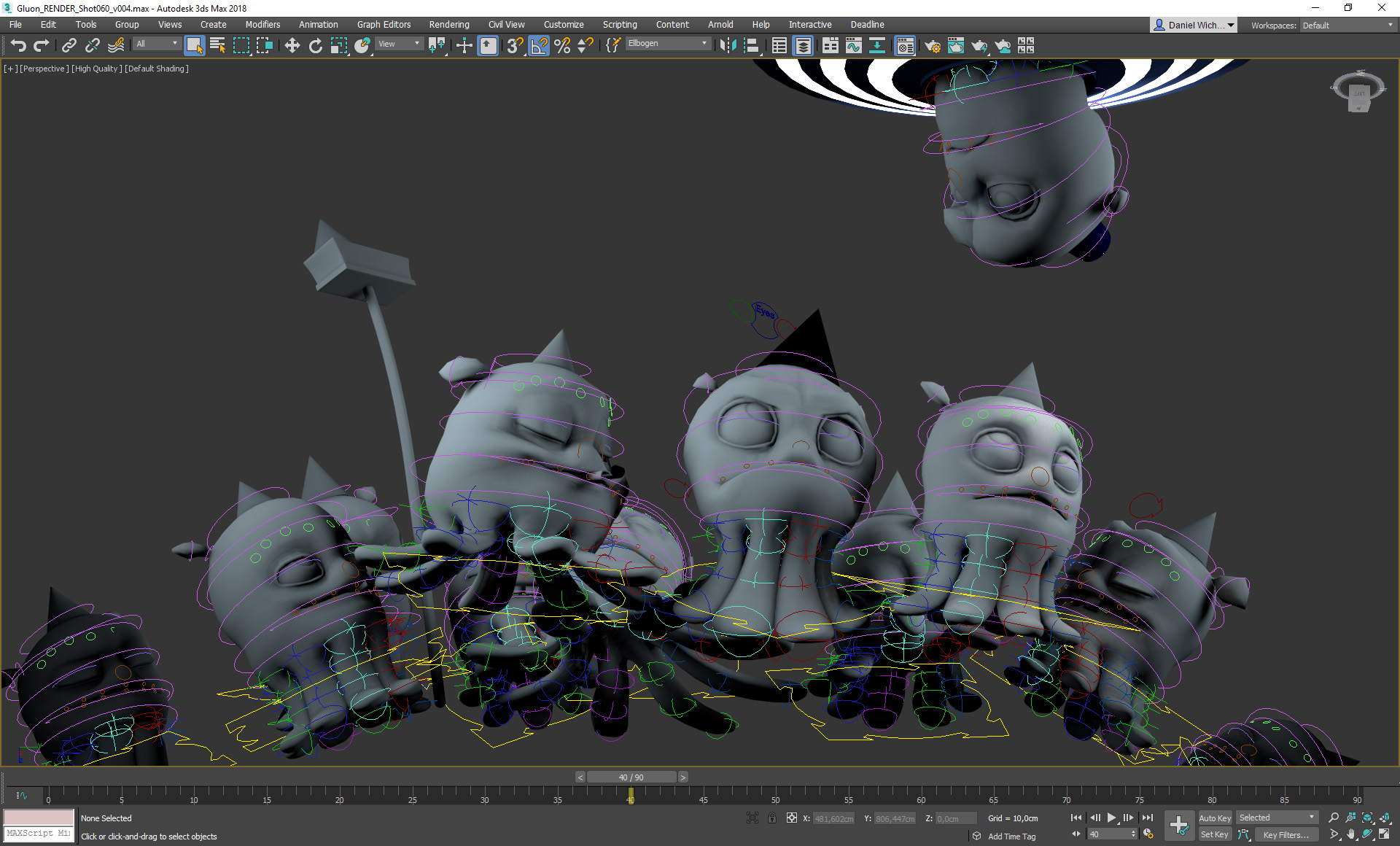 A lot of characters means a lot of controls, which gets a  bit messy at times.
'Jason and the Nucleonauts' is currently still in early development, but studioNICE has recently managed to to draw significant attention to the project. A successful pitch at the Animation Production Day in May won them a wildcard for a presentation at the prestigious Cartoon Movie pitching event next year in Bordeaux. "The sudden interest in the project caught us a bit off guard as we don't have a finished script yet," Daniel explains. "We attached two writers to the project and are also trying to secure funding for further project development." 
In the meantime Daniel and his team keep busy with world building by creating further extensive visual guidelines. These so-called "design bibles" help ensure a coherent look by assigning specific shapes and color schemes to every single element of the movie's universe, be it character, set piece or visual effect.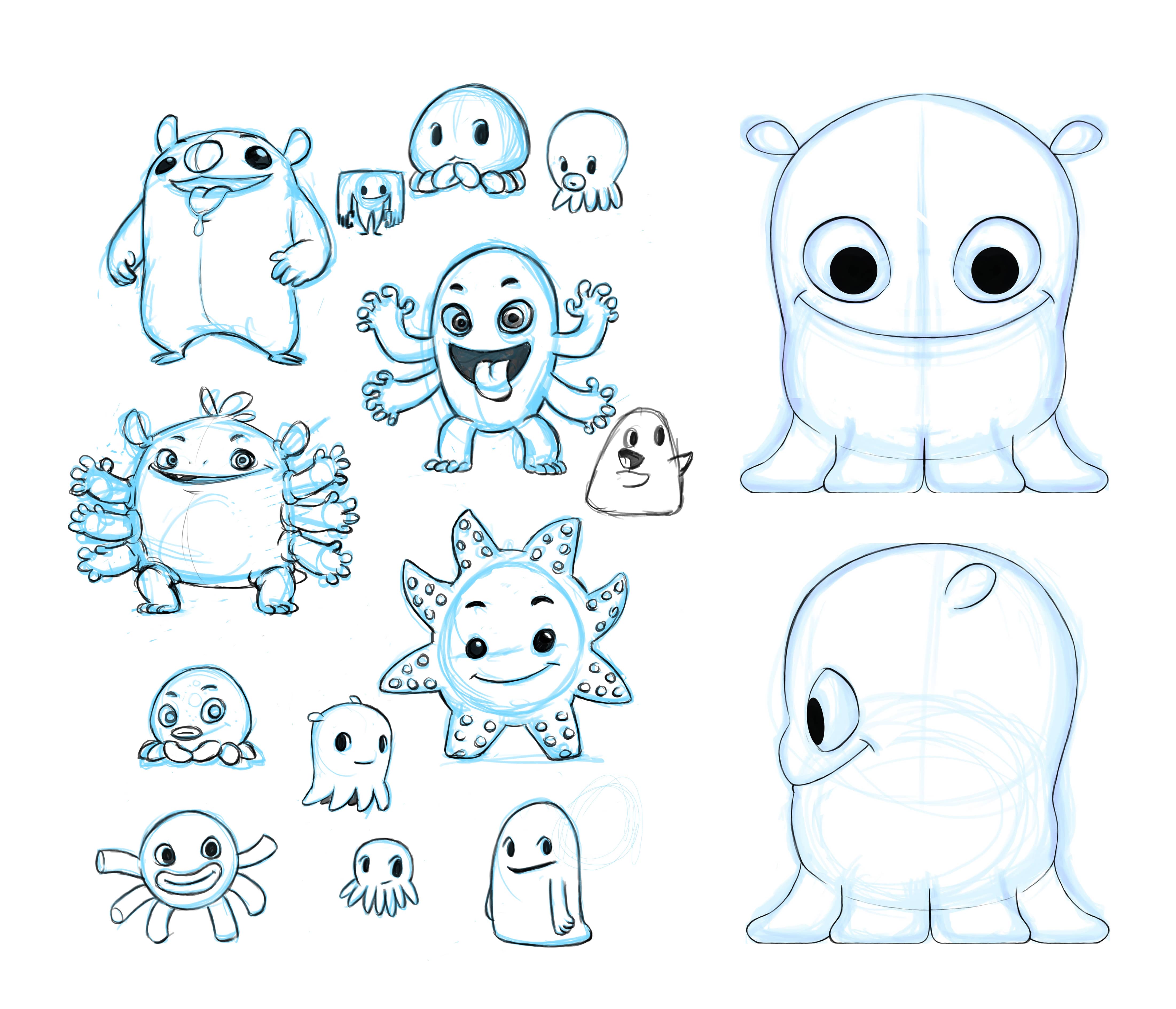 Concept art and 3D modeling reference sheet.
If you want to join the party and support 'Jason and the Nucleonauts', Daniel and his team are actively looking for collaborators: "We're at the very beginning of a longer journey and need partners in every conceivable aspect. Take a look around on www.nucleonauts.com and if you're interested, feel free to contact me at 该邮件地址已受到反垃圾邮件插件保护。要显示它需要在浏览器中启用 JavaScript。."        
---

HOW TO JOIN OUR MONTHLY CONTEST
You want to be our next featured 3D Artist of the Month and win 250 RenderPoints? Just visit our 3D Artist of the Month competition page and submit your entry. We'll choose the best image and contact the winner.
---