Tuesday, September 19th, 2017 by Julian Karsunky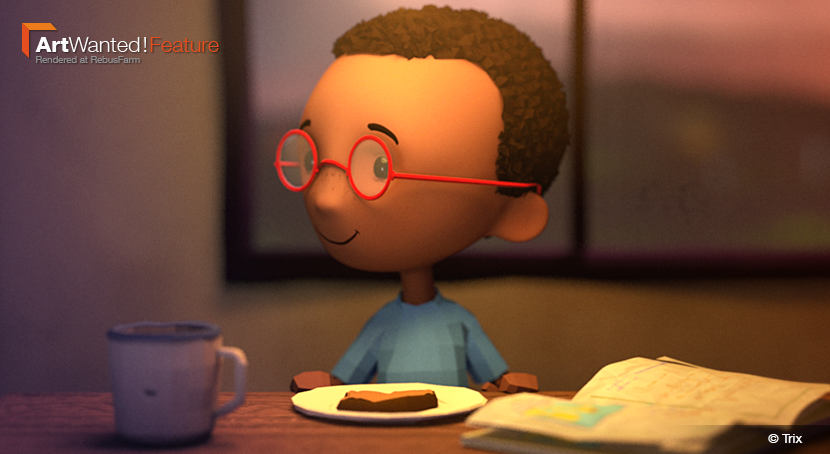 This month's ArtWanted! Feature once again takes us to the wonderful world of character animation. The talented staff at Trix, a full service production company based in Lisbon, Portugal, has been perfecting this craft for more than 20 years – and the experience shows! From storyboarding to animating, Trix infuses characters with life and humanity and tells charming short stories in 2D and 3D planes. Reduced, yet impressively pointed visual design and skillful art direction are hallmarks of their productions, which manage to evoke emotions with no need for many words.
We recently had the pleasure to chat with the core team involved in what executive producer and creative director João Sacadura refers to as a "dream job": A short, character-driven animation for a globally active Portuguese initiative, illustrating the importance of education. Check out the spot below and continue reading to learn about its innovative and bold creation and the creative minds responsible.
To start things off, please tell us about Trix and its history as a company.
João Sacadura – executive producer & creative director:
Trix is a creative video content production company founded in 1996 by three partners, all of whom have been involved in animation projects since the beginning of times. One of our founders was the first Portuguese animator/director to do a 3D course back in the 80's…Yes, we were already adults when funny hairdos and bright, colorful clothing were the latest fashion trends.
Which key services does Trix provide?
João:
While we started as a pure animation company, using a wide variety of techniques, nowadays we employ both animation and live action directors. We work for the main advertising agencies in Portugal, as well as clients in the most important industries – be it automotive, retail, distribution, telecommunications and more.
Currently, our team consists of ten full-time collaborators. We regularly enlist the help of freelancers according to project-specific needs. For instance, in this specific project, we had more than 20 people involved in different departments.
Are there specific subjects in CGI that you're especially fond of?
Manuel Sacadura – animation director:
The thing we like the most is to laugh and make others laugh. In terms of our work this translates to us using CGI to evoke and convey emotions. We therefore absolutely love character animation. We also have a live action department that mostly makes use of 'invisible CGI': post production work that retouches live action shots and conceals potential problems.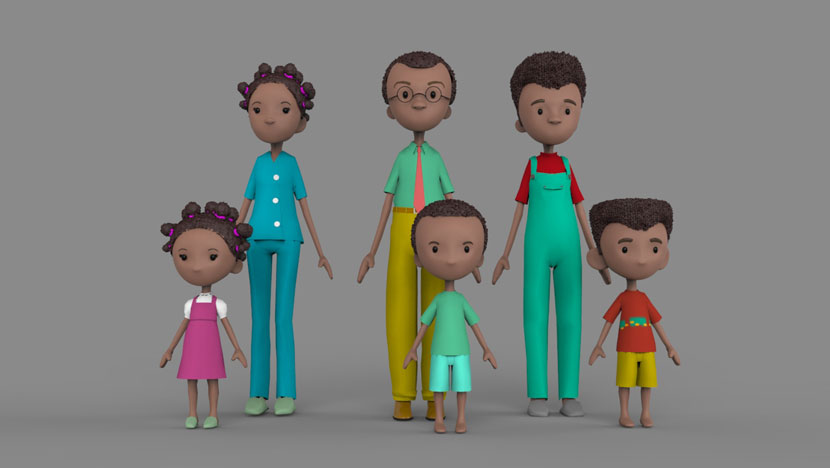 'Inspiring Knowledge', Character models
Let's talk about one of your projects in more detail, namely the animated short for the "Inspiring Knowledge" campaign by jp.ik, a Portuguese ICT-based education and development initiative. How did Trix initially get involved?
João Sacadura – executive producer & creative director:
'Inspiring Knowledge' was one of those dream jobs – save for the budget, that is. Our client wanted us to visualize their work and involvement in different countries and various educational projects. In fact, at first they asked us to create an animated PowerPoint to be shown mainly to politicians and those responsible for allocating funds. Knowing that politicians have grown tired of sitting through PowerPoint presentations, we proposed an entirely different solution:
Instead of a conventional presentation filled with facts and figures, we suggested showcasing the importance of education by telling a story. The basic idea was to connect with the viewer on an emotional level first, with the facts and figures coming later, during a subsequent meeting. At the same time, we hoped to not only gain the trust of our client, but to increase our recognition as well.
How did you the approach the animation in terms of visual design?
João:
We invited Argentine director and writer Carlos Lascano to direct the project. We developed a mix of designs which blend emotional and 'soft' characters with a harsher low poly design. We wanted to visually infuse a human element into a hard environment. And let's be honest – being a low budget project, the low poly approach saved us costly render and visual development time, so we could invest in volumetric lights, depth of field changes and all those time consuming and important toys.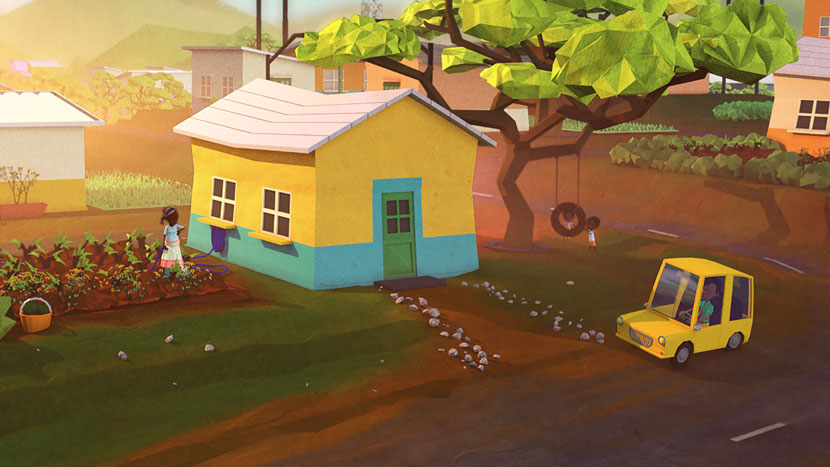 We wanted to introduce a human element into a hard environment.
What were some of the challenges of managing the 'Inspiring Knowledge' campaign?
João:
Since Carlos spent most of the eight months it took to complete the project abroad in Madrid or Argentina, coordinating the project was tough. While he did come to Portugal for the client meetings and team briefings, most of the project was directed via Skype and through different time zones. Also, when we started the project, jp.ik's focus was on South America and we developed visuals accordingly. Midway through the project however, they decided it would be more interesting if the story was set in Africa – so we had to adapt the design, colors, lighting to this new reality. Funny how that goes, right?
What software did you use for this particular project? Any specific plugins or scripts that were especially helpful?
Rui Miranda – rendering supervisor:
Ours was a young and diverse team. We decided to keep it simple and focus on balancing the time we had and the quality we were aiming for. That's why we used Autodesk Maya with Arnold render engine for all the 3D work, for both its simplicity and high quality. For compositing, we used Adobe After Effects. Regarding scripts, the one I remember coming in especially handy, is OpenPipeline, an open-source framework which tremendously helped us to manage and organize the directory structures and assets.
'Inspiring Knowledge', evolving storyboards
As an avid user of the RebusFarm render service, please tell us more about your overall experience.
Rita Amado - production manager and quality control:
We've always had a great experience. The software is very intuitive in its various platforms and made it very easy for us to maintain total control over the quality and render speed at all times, allowing us to properly manage our deadlines. In addition, technical assistance was flawless: very responsive and efficient whenever we contacted support.
In closing, is there anything else you want to say? Any present or upcoming projects you'd like to mention?
João Sacadura – executive producer & creative director:
Trix is looking for more complex and longer projects than regular TVC 30 secs slate projects. We really rely on Rebus render power and services in order to help us to complete scene renders overnight and develop more complex visuals.
We'd like to extend our thanks to the entire staff at Trix and wish them the best for all of their future endeavors!
---