Thursday, February 1st, 2018 by Julian Karsunky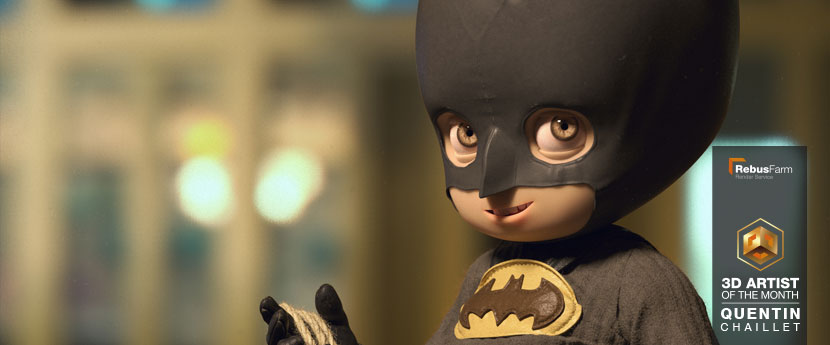 Holy photorealistic texturing, Batman! Quentin Chaillet is not only the hero we deserve, but our 3D Artist of the Month in February 2018. The French character artist extraordinaire specializes in combining cartoonish designs with incredibly detailed materials, perfectly illustrated by his chibi rendition of the Dark Knight pictured above.
Continue reading to find out more about Quentin's design philosophy and what it took to make his 'Little Batman' take wing!
'Little Batman', from original sketch to 3D model.
While 'Little Batman' is not exactly capable to instill fear in his enemies by appearance, he is sure to disarm any villain with sheer cuteness. Based on a sketch from the 'Little Heroes' series by Alberto Varanda, Quentin used all of his artistic and technical prowess to bring the character to life in a 3D environment. "I modeled the whole body in Zbrush and then imported it into Marvelous Designer to work on the clothing", he explains. "As I wasn't going to animate the character, I didn't aim for perfect topology. And since memory optimization was no concern either, I imported these huge meshes directly into Zbrush, then calculated the clothes on the highest settings my computer could handle."
As Quentin started 'Little Batman' as a personal project specifically to practice realistic texturing, he paid special attention to the intricate materials for his CGI recreation of the child caped crusader: "I had a lot of fun working on all of the clothes, from the stitching on the cape, the various leather parts of the outfit to the fiber rope", he recalls, continuing to describe the process in more detail. "I used Substance Painter for the small bags on his belt as well as the shoes. Because I wanted the logo on his chest to feel extra weighty, I made it in Marvelous Designer. Everything else is mostly tileable textures and some masks, which I find an easy way to test different tiling sizes. For rendering I used Maxwell, which is kind of slow and not always the most user-friendly, but in my experience you can't beat it when it comes to shading and lighting."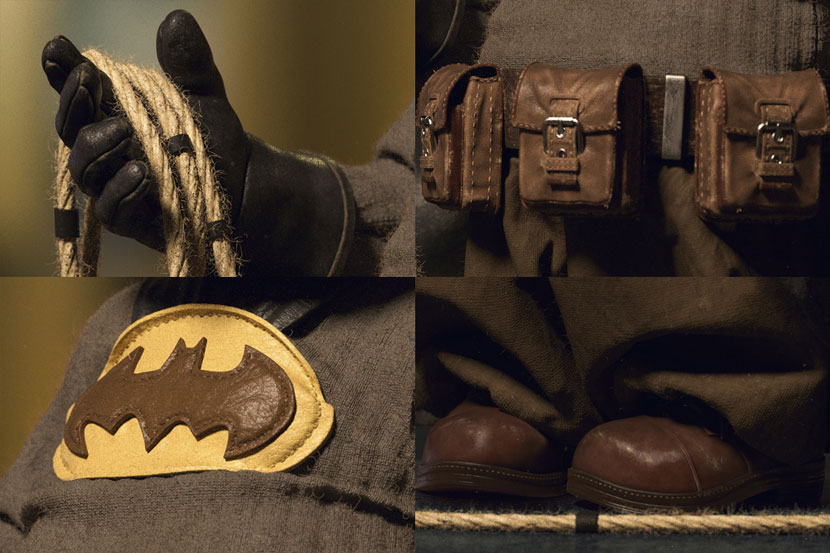 'Little Batman', close-ups.
Throughout his professional life, Quentin used personal projects such as 'Little Batman' to promote his outstanding abilities as a character artist, effectively furthering his career. After graduating from esteemed French computer graphics university Supinfocom in 2008, he initially worked as a generalist in print advertising in both France and Japan for several years. His passion and skill for character design eventually allowed him to specialize in what Quentin unequivocally cites as his favorite subject in CGI: "I simply love doing characters! It involves so many different aspects, you always learn something new with every character you make – whether it's modeling, clothing, grooming or look development."
His meticulous focus on materials and textures is not an end in itself, but essential to his artistic vision as a whole. As a means of visual storytelling through static imagery, the little details on a character's attire go a long way in conveying personality traits and narrative background. "Since an image can become boring very quickly, it's important to make full use of every single thing at your disposal to tickle the viewer's imagination!" Quentin says. "That's why I take my time to work on every prop, every fabric, until I am satisfied."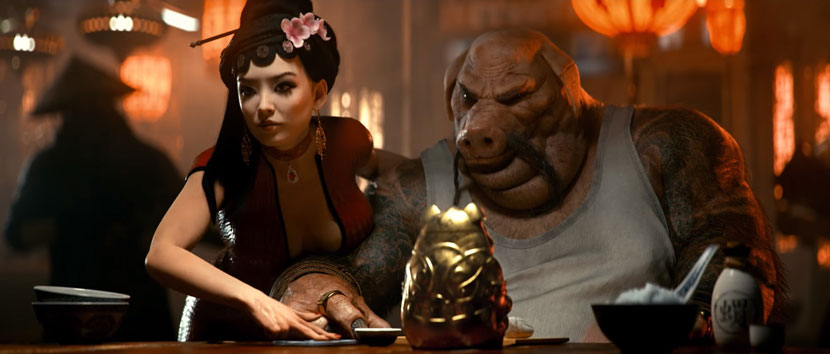 Li Daiyu (left), a character Quentin designed for Ubisoft's upcoming game Beyond Good & Evil 2.
While personally drawn to a more cartoonish aesthetic, Quentin also enjoys the challenges posed by a more realistic approach to character design. As a freelancer, he is regularly commissioned by Parisian studio Unit Image to work on high end cinematic game trailers, using techniques such as 3D head scanning and facial motion capture.
However, Quentin tells us his design philosophy most perfectly aligns when both worlds clash: "I love cartoon characters and realistic materials equally. Maintaining the global shapes found in cartoons, while pushing the material and clothing to be as realistic as possible produces this very unique look, like a doll or a stop motion character." It comes as no surprise, then, that he is a big fan of American stop-motion animation studio Laika and their 2012 full-length comedy horror film 'Paranorman', which Quentin refers to as his "ultimate design reference" and "a continuing source of inspiration".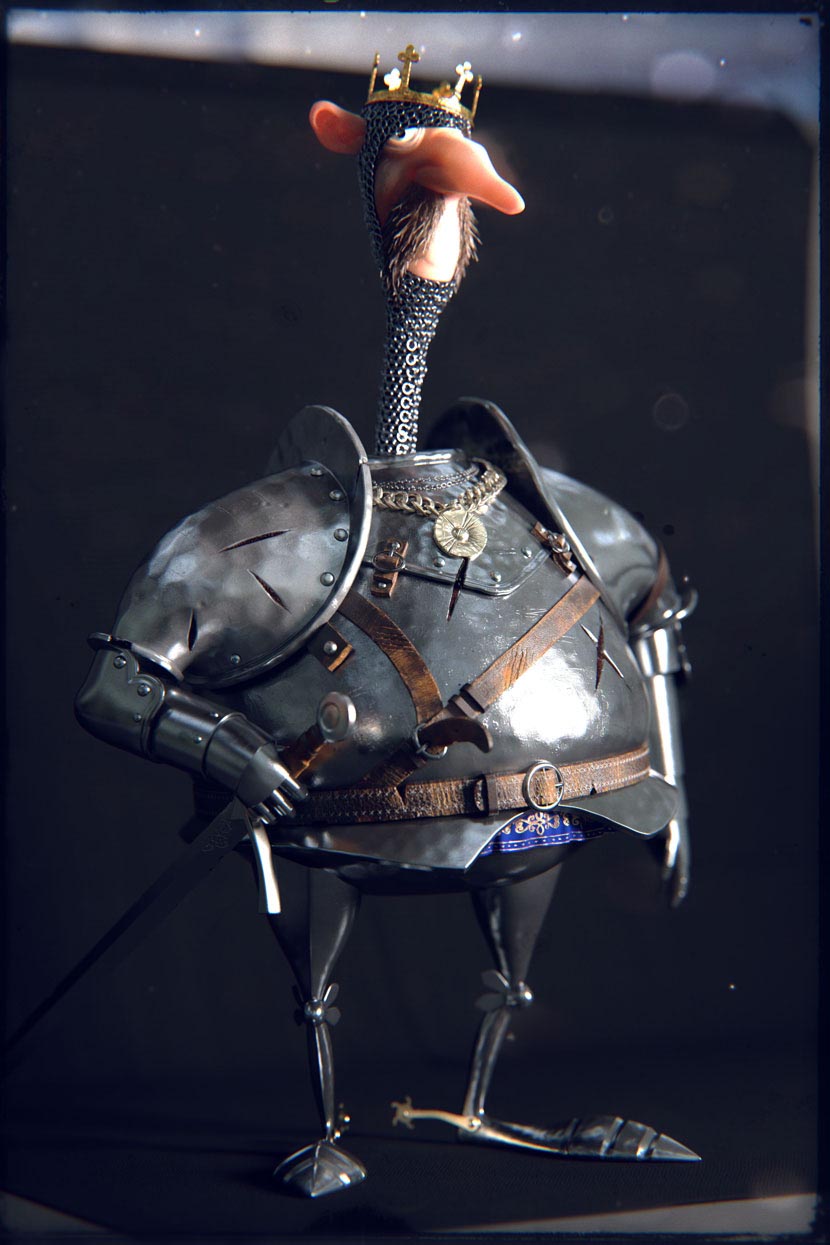 'Brave One', a knight in literal shining armor. Original design by Denis Zilber.
When asked what to expect in the near future, Quentin reveals he is currently working on exciting projects both on the professional as well as personal front. "Unfortunately I can't disclose any details at this moment, but I'm working on a very challenging project right now. In my free time I've been busy with an original, aquatic character design, which I plan on entering in an ArtStation challenge. Fingers crossed I finish on time!"
As Quentin hadn't had a chance to experience our render service yet, he is happy to finally try RebusFarm for himself. "I'm especially curious about the integration into Maxwell, which I expect to be especially useful for my workflow," he says. We very much hope he will be satisfied with the results and wish him all the best for the future.
Keep up with Quentin Chaillet here:
---

HOW TO JOIN OUR MONTHLY CONTEST
You want to be our next featured 3D Artist of the Month and win 250 RenderPoints? Just visit our 3D Artist of the Month competition page and submit your entry. We'll choose the best image and contact the winner.
---