Friday, November 1st, 2019 by Julian Karsunky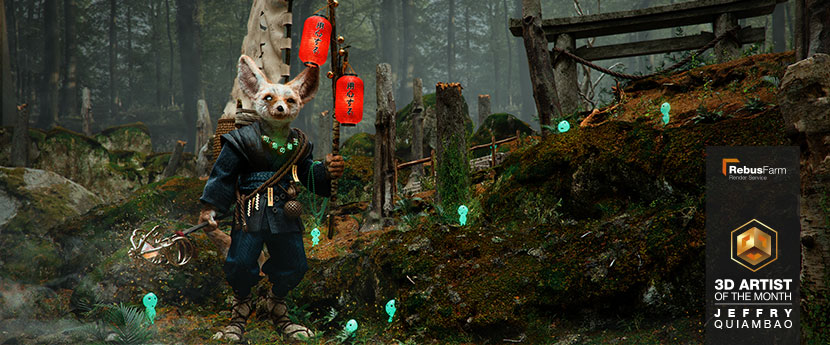 The last shall be first: While Jeffry Quiambao did not meet the deadline for the character challenge his 'Fennec Fox' was intended for, we are more than happy to crown him winner of our 3D Artist of the Month competition in November 2019! Judging by the impeccable work on the vulpine monk, it might come as a surprise that Jeffry is not a character artist by trade, having a professional archviz background instead.
In our interview, Jeffry talks about character design, career ambitions and job hunting in his new Arizona home.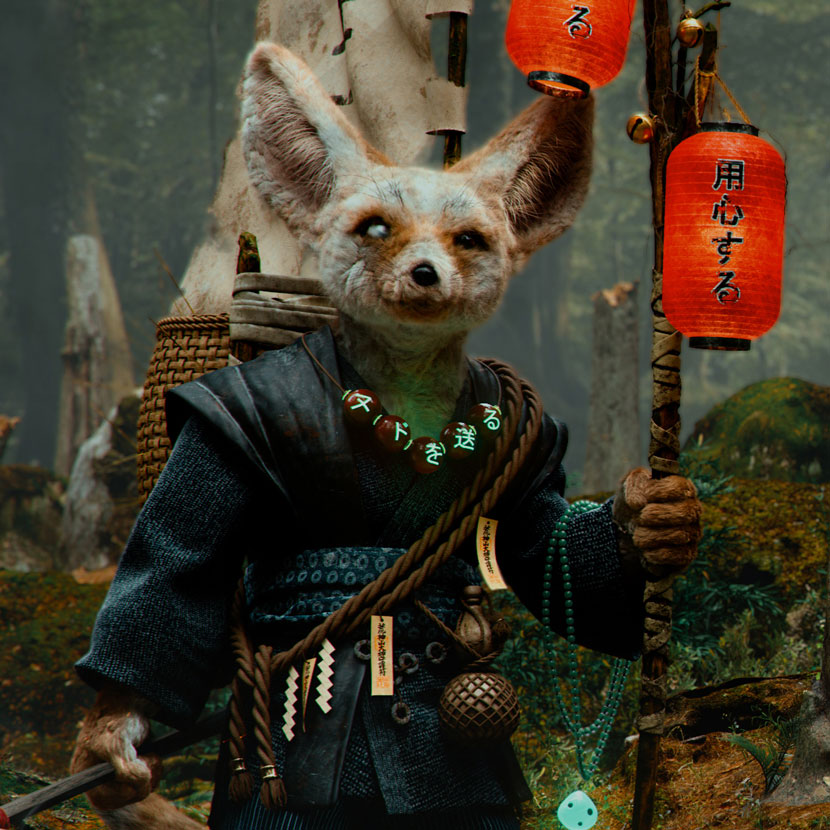 Hi Jeffry, thanks for joining us. To start things off, please introduce yourself to our readers!
Hi! My name is Jeffry Quiambao, I'm a 38 years old 3D artist. I was born and raised in the Philippines, though in 2016 I moved to Tucson, Arizona, where I've been living since.
Do you recall your first conscious experience with CGI?
My first encounter with CGI was the original Toy Story. I remember how amazed I was upon learning that it was entirely made using CG technology.
When and why did you decide to pursuit a professional career as a 3D artist?
By the age of 21, I couldn't stop thinking about learning 3D, and I scoured for information everywhere. Eventually, I found this book in a local bookstore; unfortunately, I couldn't afford it back then, so I turned to the internet instead and started self-studying.
What training or education do you have?
During my first year as a college student, I took computer science and started learning 3ds Max 3.0, which was still published by Kinetix at the time. To properly learn the basics of modelling, I rented a computer at a gaming shop for hours, sometimes weeks at a time. That's how my informal education with 3D started. The rest of my knowledge I acquired as part of my career, first as a web designer, then furniture modelling.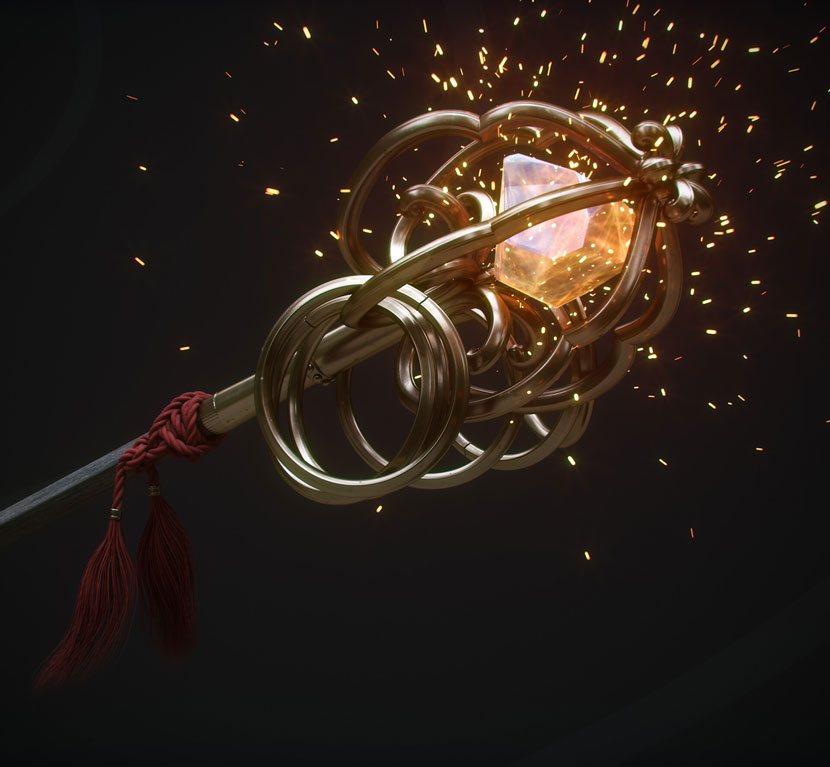 The particle effect on the staff was one of several technical challenges in the creation of the 'Fennec Fox'.
Can you briefly summarize your professional career thus far?
I have been working as 3D Artist for the past 16 years, mostly doing architectural renderings with various studios in the Philippines. As I said, I started out by modelling furniture and steadily worked my way up to archviz supervisor.
Please tell us more about your current job situation!
Since moving to the US, I've unfortunately not yet been able to land a fulltime job as a 3D artist. There are no positions immediately available around Tucson, so I'm currently still looking. In the meantime, I am doing some freelance work here and there.
What services do you provide?
I offer 3D architectural renderings and modeling from organic to hard surface models. I also do product and character modeling, animation walkthroughs, and 360 panoramic images. My client base typically consists of architectural firms and interior designers.
Do you seek full-time employment? What would be a dream company for you to work at?
Absolutely! Right now, I'm looking for a full-time contract, working remotely would be a plus. The dream would be to work as a character artist one day, as I want to further enhance my skills in character modeling. For the moment, however, I'd be grateful for any industry job with good pay and benefits, be it character design or archviz.
As a character artist, is there a specific design philosophy or school of thought you adhere to? What inspires you as a 3D artist?
Nowadays, I'm mostly inspired by the amazing 3D work I regularly see in movies. It motivates me greatly to work hard and maybe be a part of  a team working on these type of films someday.
What skill set does a character artist need?
I think it takes patience, a certain flexibility, the willingness to learn, and the courage to take on new challenges.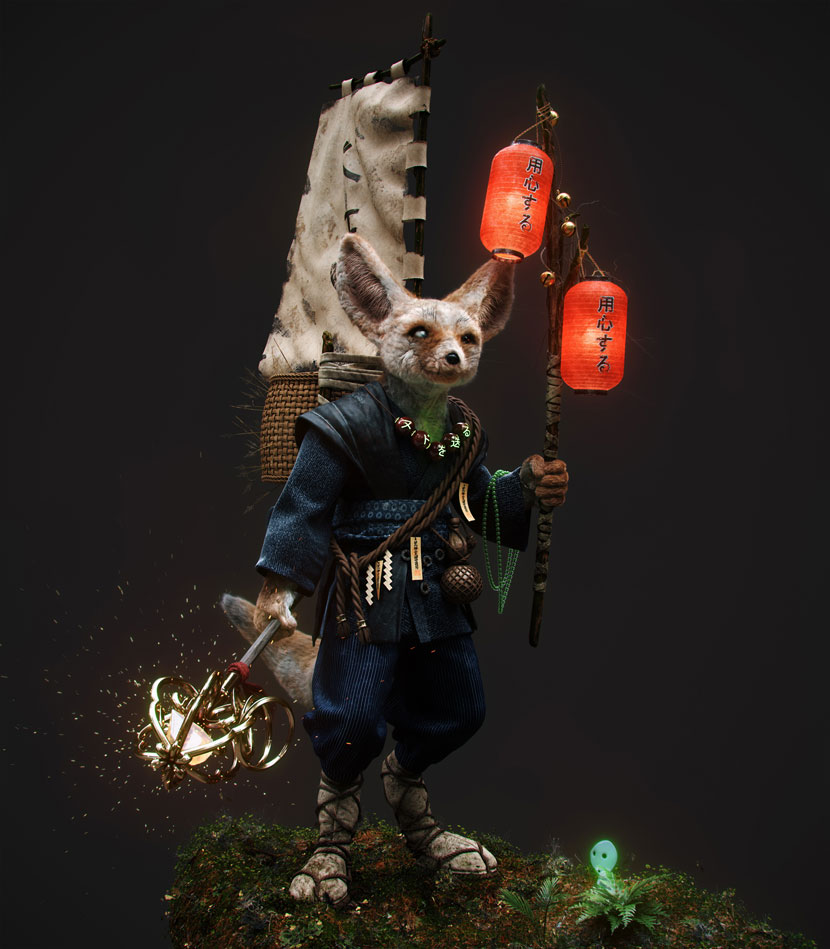 Unlike some of its mythological counterparts, Jeffry's fox sports only a single tail.
Now let us talk about your work in more detail, namely the 'Fennec Fox', an anthropomorphic monk in an enchanted forest setting. How did you come up with the original idea? What drew you to this character?
My 'Fennec Fox' was supposed to be my entry for Raf Grassetti's #SculptItYourself Character Challenge, but unfortunately I wasn't able to finish it on time due to some freelance work.
What was your main motivation for this project? Was it a technical exercise or more about the creative expression?
My main motivation was just to get it done, so I'd say it was primarily a technical exercise.
What parts of the image were especially important to you, both from a technical and visual standpoint?
Definitely the character itself! It's the main focus of the image, after all. It was a challenging project for me. I had to study how to make it look realistic, especially the fur. I was learning along the way.
Can you describe some of these challenges you had to overcome in more detail?
The hardest part for me was rendering, because I was using FStorm as my rendering engine and my GPU memory is very limited. Initially, I was using 4k textures generated from Substance Painter, since I love rendering close up views. Rendering the main character by itself was easy enough, but rendering the entire image including the background pushed me to my limits. I was maxing out my 1080ti memory, without FStorm bitmap compression I wouldn't have been able to get the job done.
Overall, there were lots of technical things I had to learn to complete this project: the particle effect on the staff, the glowing gemstone, the torn fabrics, and the fur. These were mostly firsts for me, as was rigging and posing the character in 3ds Max. It took me around four weeks to finish the image.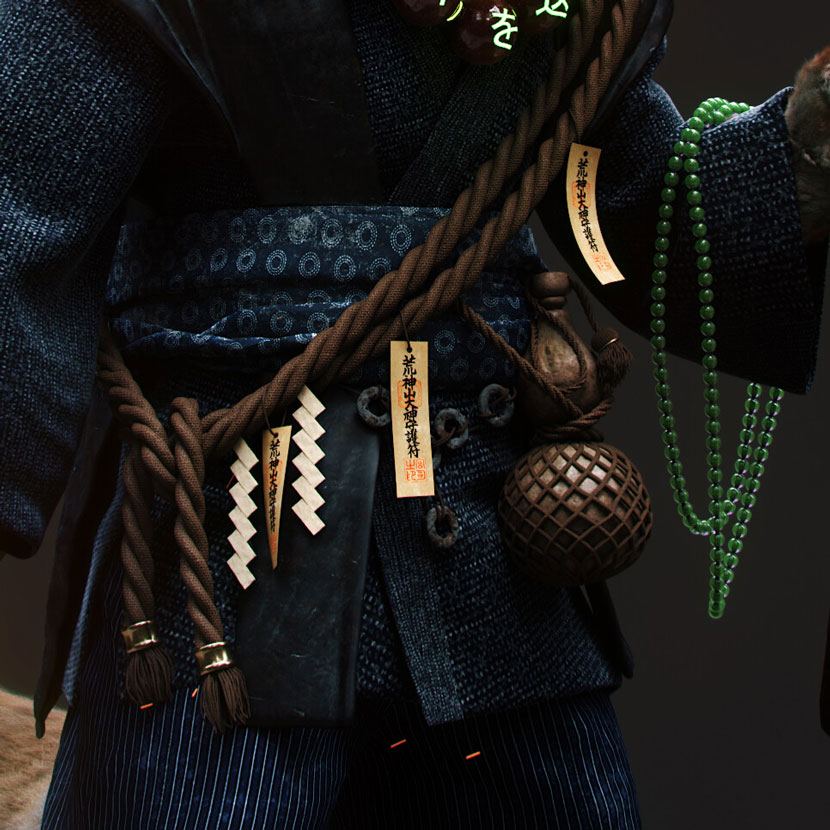 From the authentic garb to the various accessories highlighted in this detail view, Jeffry gathered plenty of authentic references to pin down the monk aesthetic.
Once you had a rough concept in mind, how did you go about realizing your idea? Can you briefly walk us through the development process step by step?
Before starting any project, I try to visualize what character and environment I want. From there, I begin by gathering references to sort my ideas with PureRef. For this project, I downloaded images of foxes, samurai, Japanese warriors and monks, even furries.
What software did you use to create this piece? Any plug-ins you found particularly helpful?
My main 3D software is 3ds Max; furthermore, I used ZBrush for details, Marvelous Designer for fabrics, Substance Painter for texturing, Forest Pack for vegetation scattering and Ornatrix for the fur.
Tell us more about how you approached the design of the character, especially in regard to visual story-telling. What is the significance of the monk aesthetic?
It was just a random idea, honestly. I have not seen a character like this and thought it would be interesting and indeed, it turned out to be a great idea!
Can you tell us more about your inspirations and references regarding his outfit and accessories?
As I said before, I researched historic depictions of Japanese warriors, priest, monks, peasants as well as concept art by other artists. I also looked into various sewing patterns for traditional Japanese clothing: kimono, hakama, kataginu and bakasu sandals. Same for the accessories, I had references for prayers beads, o-fuda paper folds and monk staffs.
What is the purpose of the staff, the prayer beads around the fox's neck and the symbols on the lantern?
The main purpose of all of these accessories is just to make the character seem more mysterious and spiritual. I was liberal in choosing these elements as long as they fit the monk aesthetic.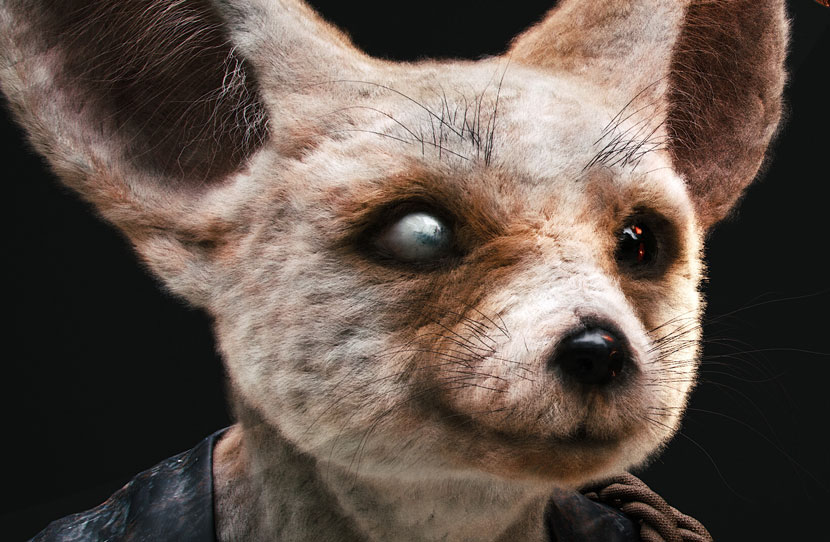 This close-up of the fox's head shows the detail on its fur and whiskers. Also note the theme of light and darkness in the differently colored eyes!
The overall scene is somewhat reminiscent of the Studio Ghibli aesthetic. However, instead of a more cutesy or kawaii look you might expect from popular Japanese artwork, you opted for a photorealistic design of the fox's facial features.
I wanted the character to blend in with the photorealistic environment I was aiming for. The more serious look suits the scene and also resonates well with the accessories.
The differently colored eyes are particular striking and make the monk appear even more otherworldly.
I wanted to create a somewhat supernatural mood, bordering on creepy. The eyes also lend a certain battle-worn look to the character.
The fox is an animal of particular relevance in Japanese folklore and religion, often attributed supernatural powers and acting as a trickster. The fennec, however, is obviously home to an entirely different region. What made you bring these two elements together?
This might be a disappointing answer, but there's no deeper meaning to this contrast, as the fox was simply a requirement of the challenge.
Part of an earlier unfinished personal project, Jeffry finally put this model of a Torii gate to good use.
Let's switch gears and talk about the background and overall setting, this eerie and highly evocative forest scape.
Yeah, I was aiming for an eerie vibe. Maybe you have heard about the infamous Aokigahara forest in Japan, it served as a loose inspiration, as I imagine the forest to look and feel like this.
How did you achieve the desired effect?
I build the scene using assets from Quixel Megascans. I scattered vegetation, moss and twigs using Forest Pack, and used FStorm for rendering. For post processing I added the fog, fireflies, background image and applied LUT gamma correction refine the desired look.
The sunken Torii gate denotes a (former) Shinto place of worship. What is the story of this forest clearing?
That sunken Torii model was actually from an old unfinished personal project. I just added the shrine to give it a more Japanese feel to it. The clearing signifies that there was recent activity in that scene before the priest got there, and the fox is surprised to find nobody there except the spirits.
Speaking of, who are these green glowing spirits and what is their relation to the forest and the monk?
These are Kodama, nimble forest spirits common in Japanese folklore. They were a last minute addition – I found the scene was still lacking something and decided to add some secondary characters to give it more life. The design of the spirits is inspired by the Studio Ghibli movie 'Princess Mononoke'.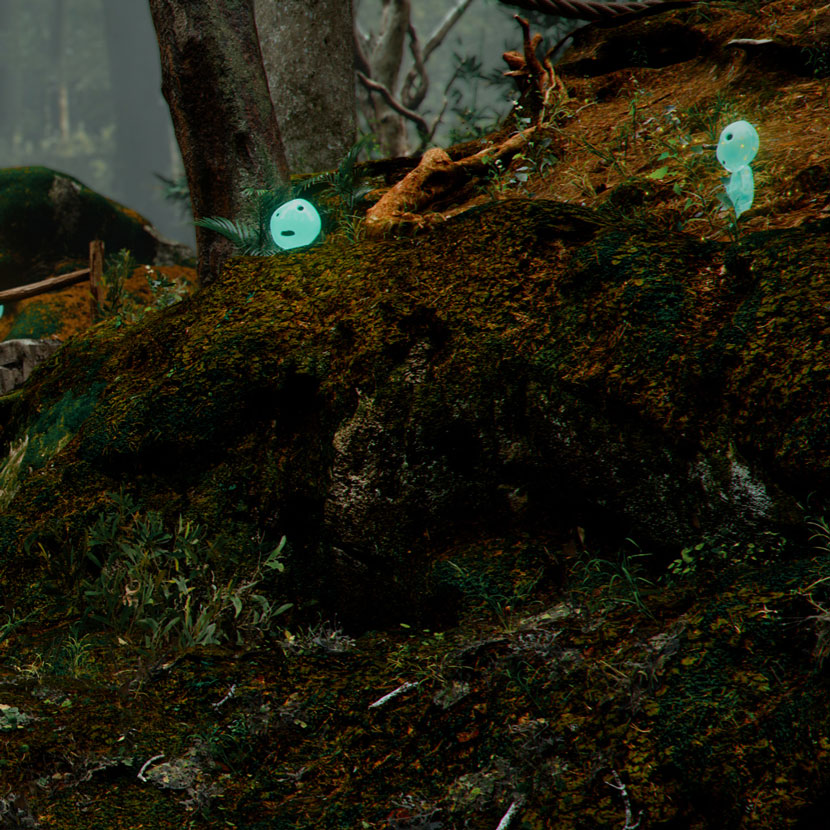 The simple, yet highly expressive Kodoma were a late addition to the scene and blend in well with the forest environment.
Please tell us more about your previous experience with RebusFarm. Is there anything you especially like about our service?
I've been using RebusFarm to render all of my architectural animation projects, and I highly recommend it if you want to finish your work within a few hours, instead of days.
In closing, is there anything else you want to say? Any present or upcoming projects you'd like to mention?
I am grateful and very honored to have been chosen as 3D Artist of the Month. This is a great achievement to me and an outcome I never expected, as I did this project simply out of love for 3D.
Thank you and more power to RebusFarm!
You're welcome! Jeffry, thank you very much for taking the time to answer our questions and all the best in the future.
Keep up with Jeffry Quiambao and his work here:
---

HOW TO JOIN OUR MONTHLY CONTEST
You want to be our next featured 3D Artist of the Month and win 250 RenderPoints? Just visit our 3D Artist of the Month competition page and submit your entry. We'll choose the best image and contact the winner.
---
>> Read more articles on our blog