Monday, July 15th, 2019 by Julian Karsunky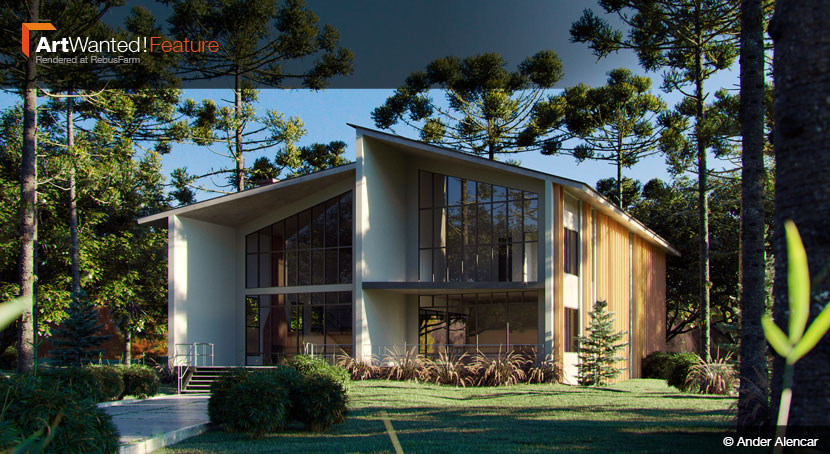 For this month's ArtWanted! feature, it is our pleasure to immerse ourselves in the diverse portfolio of Brazilian archviz artist Ander Alencar. From humble beginnings to running a 30-men team, Ander has been all about giving back to the CG community. Through a steady flow of video content, he openly shares not only his work, but his extensive industry knowledge as well, all while managing the daily operations of his studio Oficina3D and creating personal projects.
In our interview, Ander talks about entrepreneurship, time management and how a single poster shaped his career.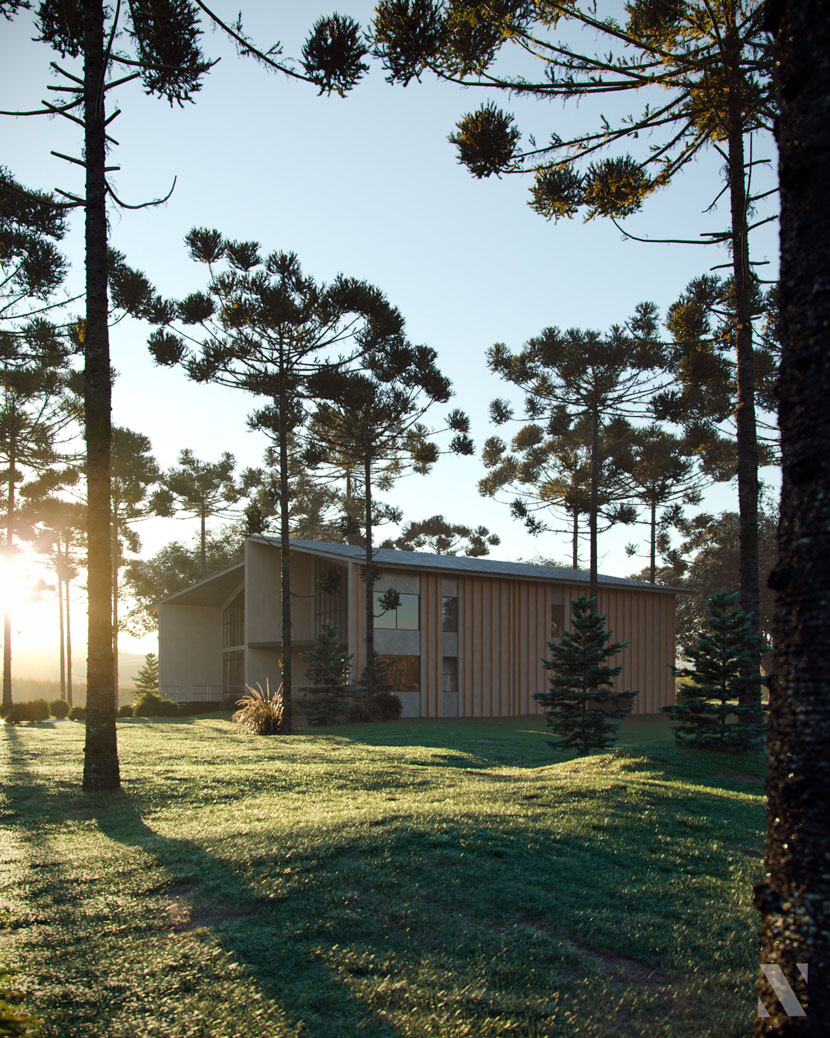 Ander Alencar, 'Into the Woods'. The Araucaria tree, also known as the Chilean pine, is commonly found in the lower slopes of the Andes.
Hi Ander, thanks for joining us! To start things off, please introduce yourself to our readers!
Hi, my name is Ander Alencar, I'm 38 years old and I'm from the city of Blumenau in southern Brazil. Thanks for giving me this opportunity to talk about my work!
It's our pleasure! First, we'd like to learn more about how you got started in the industry. Do you recall when and how you first consciously encountered CGI?
Well, I started working with AutoCAD when I was just 15 and I've been drawing professionally ever since. But I still vividly remember a moment during my college days: one day, I came upon a poster advertising an animation course in São Paulo, both traditional and 3D animation. On the poster, it said: "have you ever considered being an animator?", and I just thought to myself: "my entire life". In hindsight, that was a turning point in my professional life.
When and why did you then decide to pursuit a career as a 3D artist?
Ever since my studies in architecture, which I eventually abandoned, I've always liked rendering designs more than designing them. It was clear to me what I wanted to do for a living from that point on.
Did you end up attending that animation course? Please tell us more about your training.
Yes, unlike my studies, I did complete the animation course. It was two years of learning 3D animation, using Maya and Mental Ray. As for archviz, I'm self-taught for the most part. I started learning V-Ray and 3ds Max through participating in 3D forums and other online resources. Although back in 2002, there was much less information available on the internet, so I actually had to learn from day to day, tackling problems as they arose.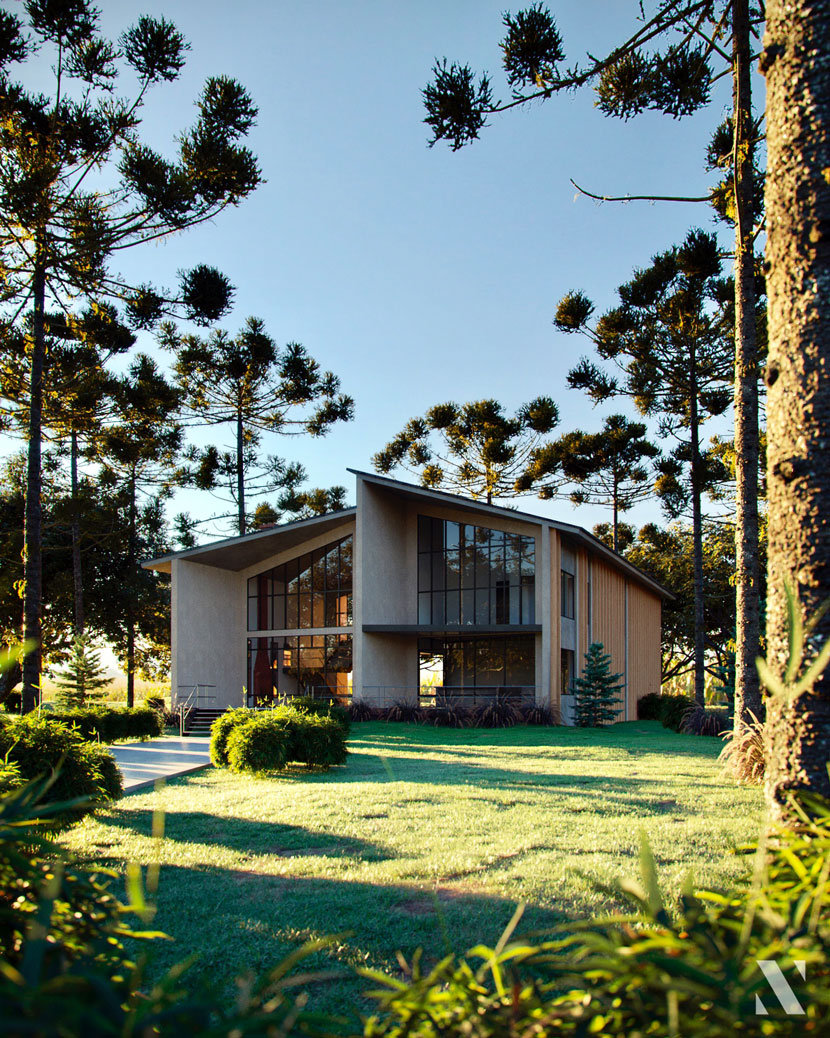 An animation course was the beginning of Ander's CG career. Today, he develops courses himself. This scene is part of a guide on rendering from references.
After working various office jobs, you eventually founded Oficina3D, the company you still run to this day. Under what circumstances was the studio established?
It was in 2004. I had just finished the animation course and returned from São Paulo, when I decided to combine the two things I love the most: architecture and CGI. I started alone in a room in my mother's house. Gradually and with great effort, I was able to develop the company further, until I finally could hire my first employee. From there, we have steadily improved our quality and our delivery as well. As a result, we are now harvesting the fruits of our labor and continue growing.
How do you manage a company that has experienced substantial growths over the last few years?
As director of Oficina3D, my main responsibility is to ensure that my team has everything it needs to deliver the best possible renderings. Managing a team of currently 30 people obviously requires a lot of coordination and leadership. Whenever I'm not caught up in daily tasks, I try to be where I'm needed most: attending clients, supporting my business team in closing deals, working on renders or making coffee when the coffee maker is empty.
Besides fresh coffee, what services does Oficina3D offer?
It's basically all archviz in the broadest sense. Our focus is the real estate sector, we deliver everything from stills and floor plans to animation and VR. While we also support product launches, it's usually within the area of architecture.
Is there a specific design philosophy or school of thought you adhere to? What inspires you as a 3D artist?
None in specific, I like that which is beautiful and efficient, I'm fond of organization and art. Our mission is to convey feelings through renderings. I look for inspiration in all sorts of places, from music and movies to nature. When it comes to the CG community, I'm a fan of the likes of Alex Roman and Studio Mir.
Oficina3D seems to take a very futuristic approach to architecture and design. What is the overarching creative vision for your projects?
We at Oficina3D pride ourselves in bringing the future to the future. By reaching beyond ideas, we can catch a glimpse of tomorrow and realize intangible projects.
Personally, I love working and experimenting with contemporary styles, clean and clear architecture is my favorite.
What are some of your personal highlights in your working life thus far?
I had the opportunity to work on the international feature film 'Asterix and the Vikings'. Furthermore, I had the privilege of working on several extensive projects here in Brazil for big brands like Porsche Design and Pininfarina.
Now let us talk about your submission in more detail, namely 'Into the Woods', an idyllic exterior scene set in a grove. Can you first describe the circumstances that lead to the creation of this piece?
This scene was created for a lesson from one of my courses, a step-by-step SketchUp guide to realistic rendering based on a reference.
What was your main motivation for this project?
Here in southern Brazil, floresta ombrófila mista is a region famous for its vast forests inhabited by these great Araucaria trees. I wanted to convey the feeling of this place on a winter day.
What were some of the challenges you had to overcome?
The biggest challenge was probably to properly capture the exact feeling I wanted to convey. To transport the viewer to the scene, finding the correct camera position was especially important.
It only took me a couple hours to complete the project. To be honest, I start getting a little anxious if a project takes too long, so I usually do not take more than a day for any scene I work on.
What software did you use to create this scene? Any plug-ins you found particularly helpful?
I used 3ds Max, Corona Renderer and Photoshop. For the grass, I used ForestPack.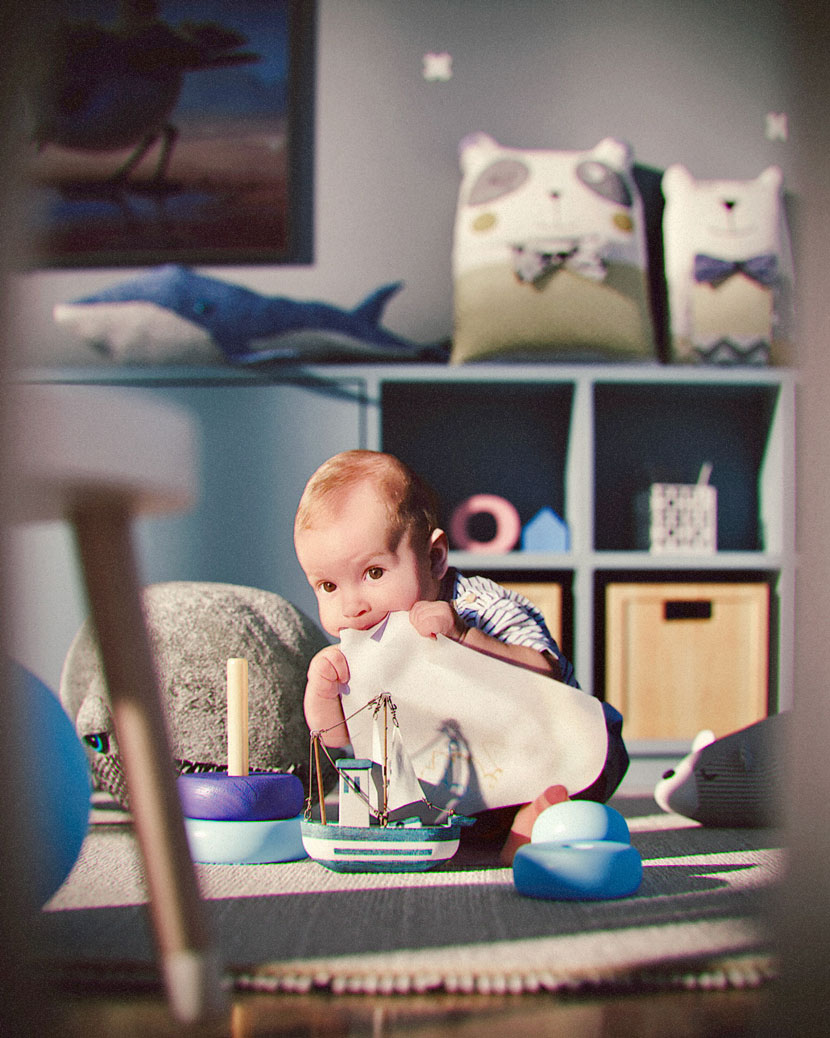 Ander's personal portfolio is a treasure trove of creativity and technical ability. Pictured here: his son Pedro.
Whereas Oficina3D seems to be firmly rooted in architectural visualization, your personal portfolio is a lot more diverse. How do you generally approach personal projects? Are they an important creative outlet for you?
When we work on commissioned projects, we don't have that much creative freedom, there are always rules to be followed and tight deadlines to be met, which leads to lots of pressure. Personal projects are very important to me, because it is through these that the artist can fully engage with his art, where I can really be myself, and explore new tools and work for pure pleasure.
How do you find the time for these projects?
Strictly speaking, I don't have the time, no one does, really. It's all a matter of prioritizing, if you want to make projects, you'll make the time, if it's not your priority, you will always have an excuse. Me, I definitely want to do personal projects, and while it's never easy to find the time, I still manage somehow.
Let's at least briefly touch upon some of those projects of yours. Out of curiosity, what's the story behind 'Pedro'?
Pedro is my son, and I had this picture of him playing at home. I always had difficulty inserting 2D models into Photoshop, so I devised my own technique to insert them straight into the render instead, which has worked out very well. 'Pedro' was part of a series of testing this method, and a successful one at that! I wanted to create a scene with toys and nice lighting, to make it seem like Pedro was really there.
I'm equally impressed and fascinated by this series of endearing wooden miniatures you created. Can you please tell us more about this particular project?
Gladly, I love this series as well! I started making 3D wooden miniatures of architectural landmarks, I already finished three of them. My plan is to do ten major works, then make a virtual museum where you can move freely around a room and examine each miniature inside your VR headgear as if you were standing right in front of them. I have not yet mapped out the whole project, but it is up and running.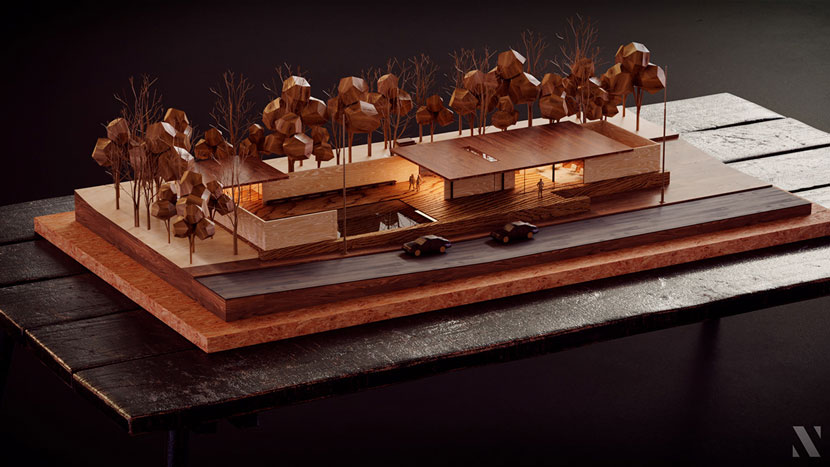 On a trip to Barcelona, Spain, Ander fell in love with Mies van de Rohe's famous pavilion. Wooden miniature CG recreation.
You also manage a personal YouTube channel, where you frequently share your work and experience in the form of short tutorials, debriefings and time-lapse videos. What is your main motivation for creating videos?
Yes, this is my newest personal project. I come from a humble background and rendering changed my life: I was able to open my own company and now I have everything I need, including financial security. Through my videos, I want to give back to the community and enable aspiring artists to change their lives as well! It's my small contribution to advancing the CG industry as a whole.
How important is establishing and curating an online presence in the 3D industry?
It is extremely important. If you are a studio or freelancer anywhere in the world, you can earn international recognition and acquire remote work all through your online presence. With the right portfolio and the means to showcase your work, there are hardly any barriers in this digital world, it's amazing!
Is teaching others something you generally enjoy?
I absolutely love it. It is something that I discovered one day, and it does suit me very well.
You are surprisingly transparent and open in your videos! Is this just your personality shining through or do you specifically want to clear up common misconceptions regarding your work?
Honestly, I see no reason not to fully share my experience. The more openly I share my methods and processes, the more I learn, and the more I am sought after. I'm not afraid of creating competition, the market is huge, and professionals are still lacking in certain areas. That is, at least in my experience, seeing how I had a hard time finding someone capable when hiring in the past. So that's another reason I like to share openly.
Can you tell us a little bit about your overall experience with RebusFarm? Is there anything you especially like about our service?
I've been using RebusFarm for a long time by now, eight years at the very least, maybe more. You guys are to be congratulated! It's amazing how reliable and easy to use your service is, I can always count on you. Only a few clicks, and I have completed a render and saved the file on my computer in no time – it's magic!
In closing, is there anything else you want to say? Any present or upcoming projects you'd like to mention?
Since we just talked about my YouTube channel, I'd like to mention 'RENDERMIND', as it is my most comprehensive personal project yet. It's an ongoing training program, where I go over everything from my entire rendering process to managing a studio, organizing a team and even marketing. There are more than 200 lessons already and I'm still recording new videos frequently. I'm working hard on this training, so please check it out if you get a chance!
Sounds like we have a lot to look forward to this year! Ander, thank you very much for taking the time and all the best in the future!
Keep up with Ander Alencar and his work here:
Make sure to check out his studio Oficina3D as well:
---
How to join ArtWanted!
You want to get featured in our ArtWanted! campaign and win 250 RenderPoints on top? Submit your work, rendered at RebusFarm, to 该邮件地址已受到反垃圾邮件插件保护。要显示它需要在浏览器中启用 JavaScript。! Visit our Art Wanted! page for more information.
---
>> Read more articles on our blog