Wednesday, March 2nd, 2016 by Nadine Obst
We are happy that Yarko Kushta from the Ukraine also gave us an interview on his entry for the Evermotion Challenge 2015 "Whola Lotta Loft". He won third place with this stunning loft style! Congratulations!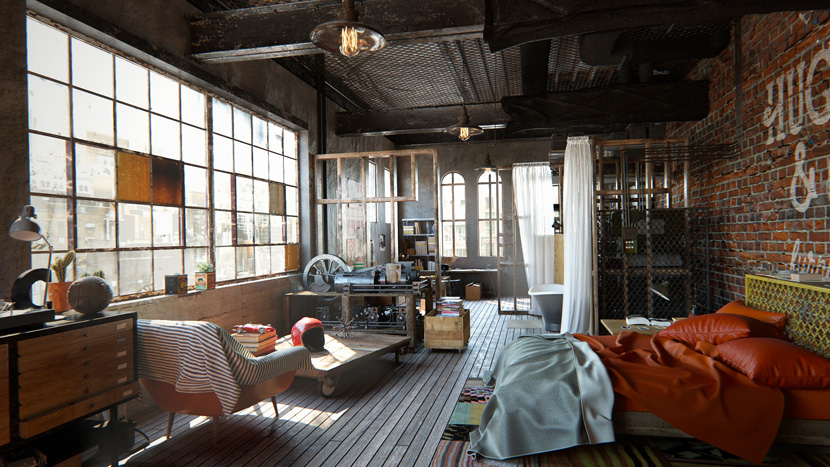 Hi Yarko, thanks for taking the time. Please tell us more about yourself and your work in general. 
First of all, I'd like to say thank you to the whole team at RebusFarm for giving me the opportunity to tell my story and talk about my work. I've been working in the CG industry for more than 8 years now. I studied Automatization Programming Engineering at Lviv Polytecnic University but quickly realized that I wanted to learn CG and create beautiful visualizations. So I basically learned CG programs self-taught by using the internet for my research and studies. Two years ago I finally founded my own studio. Check out my artist page. 
What made you enter the Evermotion Challenge 2015?
Well, we've done a lot of commercial work in arch-viz and to be honest, from time to time it can be really boring. So I was very happy found this challenge and got a chance to create something different and imaginative. So I created this loft with interior I really like, a loft where I would definitely like to live myself! 
What's the idea behind your image? Why did you choose this kind of look?
The idea was to create a realistic image which gives the viewer an insight into the life of the artist living in this loft. I really like vintage stuff from the 60's and 70's and I collect art and vinyl records and a lot of things like pop art posters, old DC Comics and so on. My friends always send me cool stuff from all over the world. I also always liked the idea of using raw materials from old factories as an interior design feature. All the stuff I really like is combined in this render. My dream loft, you may say!
So you got your idea of making this picture from a book you've read? Is that correct? Can you tell us more about that?
Yes, that's correct, a book partially inspired me. I always like to dig into bookstores and accidentally found a book called "Twenty Minutes in Manhatten" by Michael Sorking. He is an architect himself and describes every part of New York so you as a reader really feel like you're there. He mentions every detail: stairs, streets, buildings and also lofts. Another source of inspiration were Woody Allen movies and indie magazines with conceptual art. I like exploring new things both in design and technology.  I imagined a person living in a huge loft in Brooklyn. Its interior design is inspired by old factories and a vintage look in general but also using small details all over the room. A perfect place for an artist, I think. I gave it a personal touch you might say. It was always my dream to combine work and travel. One day, I'll take my laptop, buy a vintage VW bus and travel around Europe and Asia. I really like to discover different places of the world and tried to show this by placing small details all across my loft. And saving time by rendering with you guys in the future, might bring me closer to this dream. 
Tell us, which software did you use?
I used 3ds Max 2014 for modeling, corona render 1.3 for rendering. Corona always gives fast and beautiful results. I saved my renders in 32 bit channel to take control of the light depth. This way you can have a deeper color and lightning range. Arion FX works with 32 bit images and gives a greater post-processing result. For cloth and some details, I used Marvelous Designer. 
Can you give our users an insight in how you made the picture. Maybe you walk us through your approach step-by-step?
Yes sure, let's start by showing you my reference images and sketches.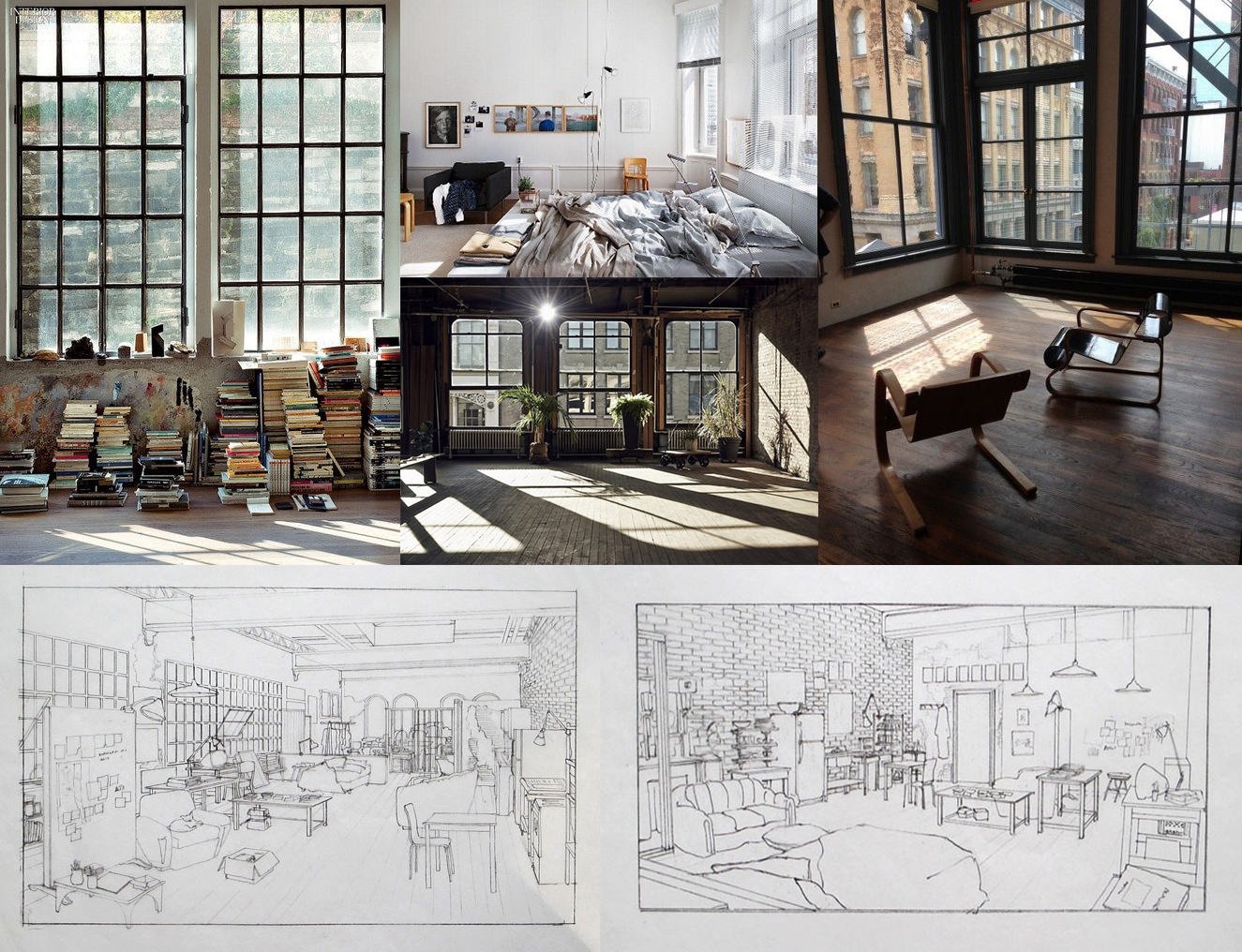 I feel comfortable that I made all modeling in 3dsmax and Corona Render to quickly get a more photorealistic result and also make quick tests for the details.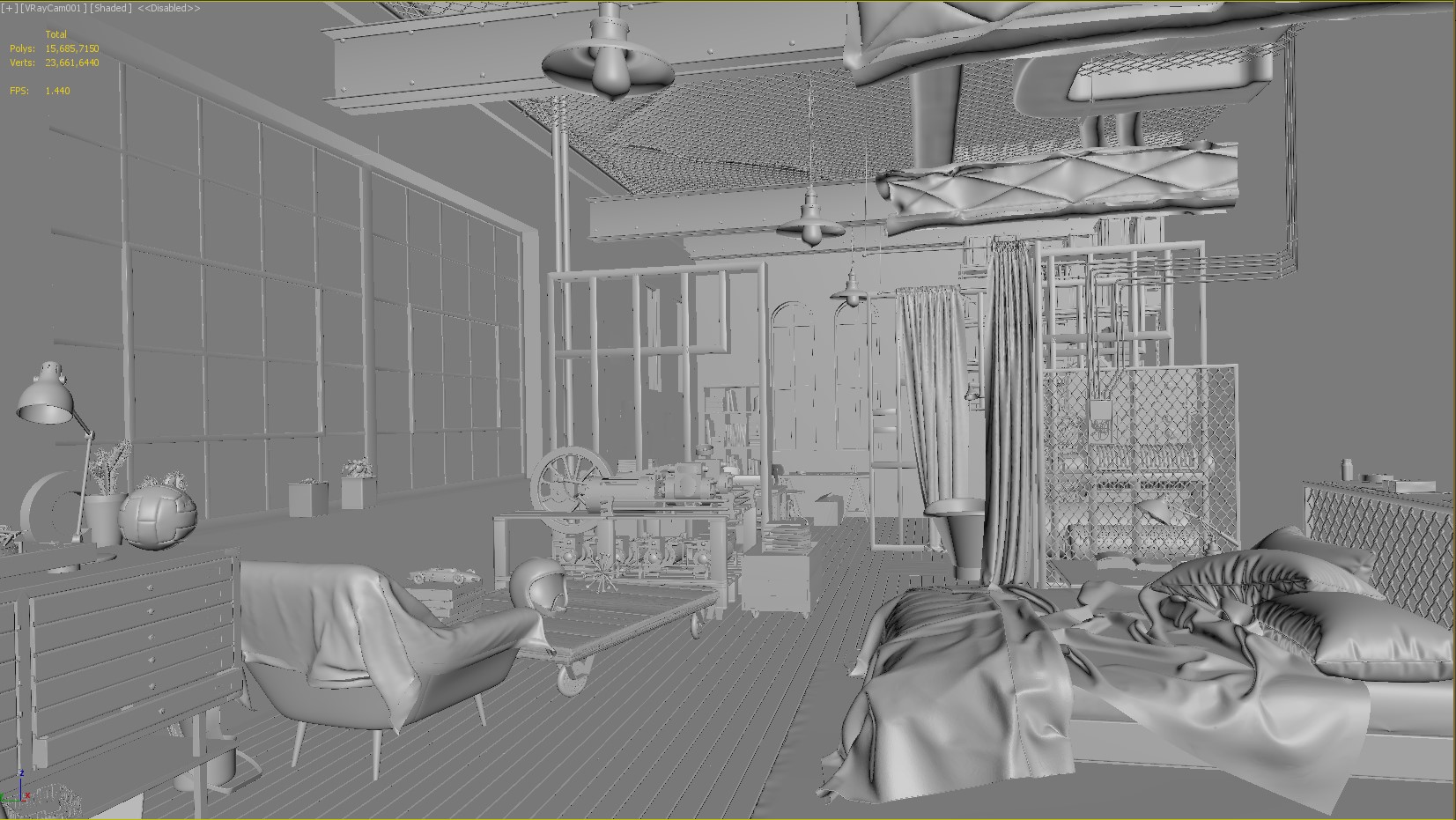 View from the camera. A lot of light is coming from the outside through the glass windows.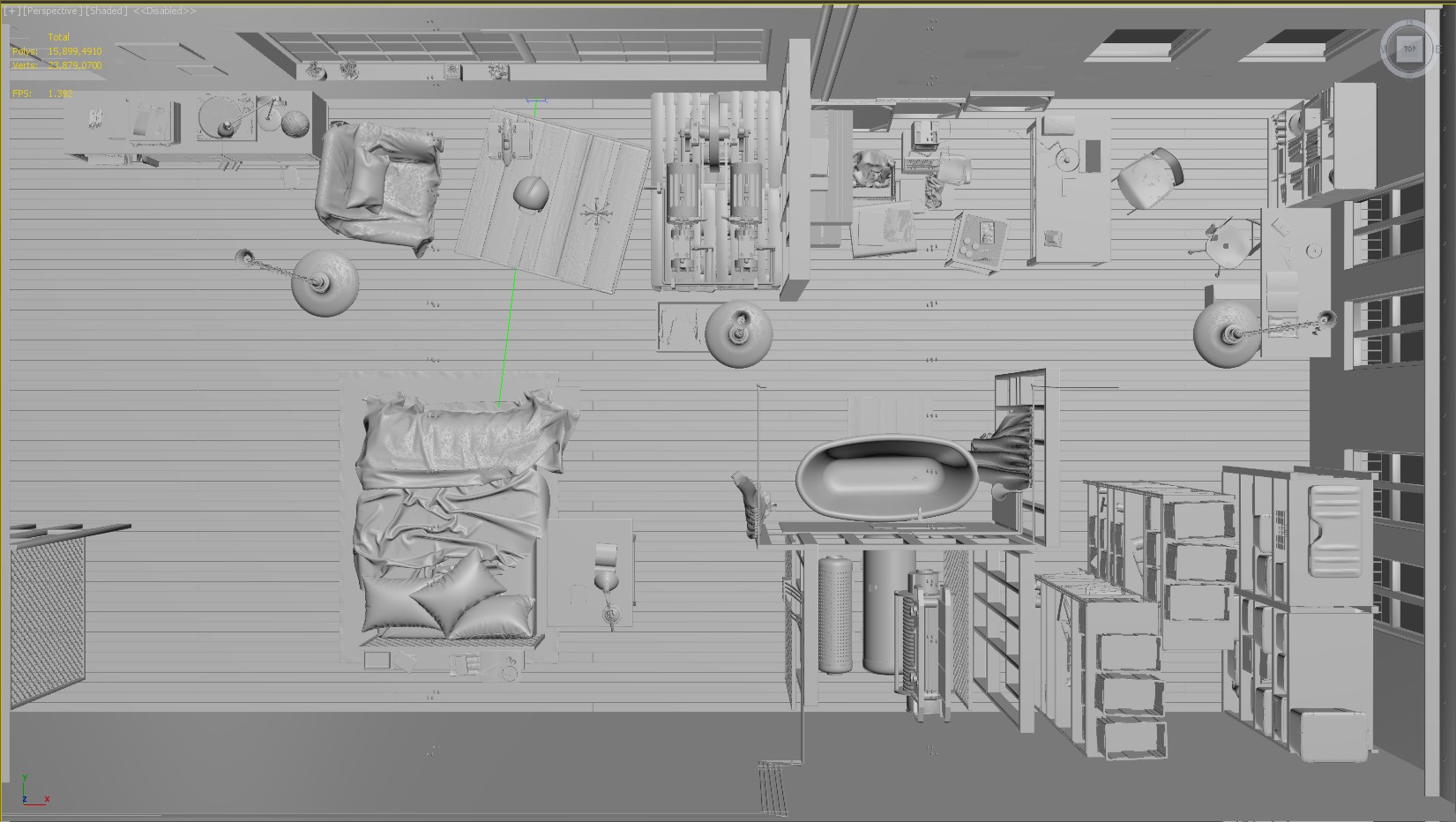 Interior top view without roofing.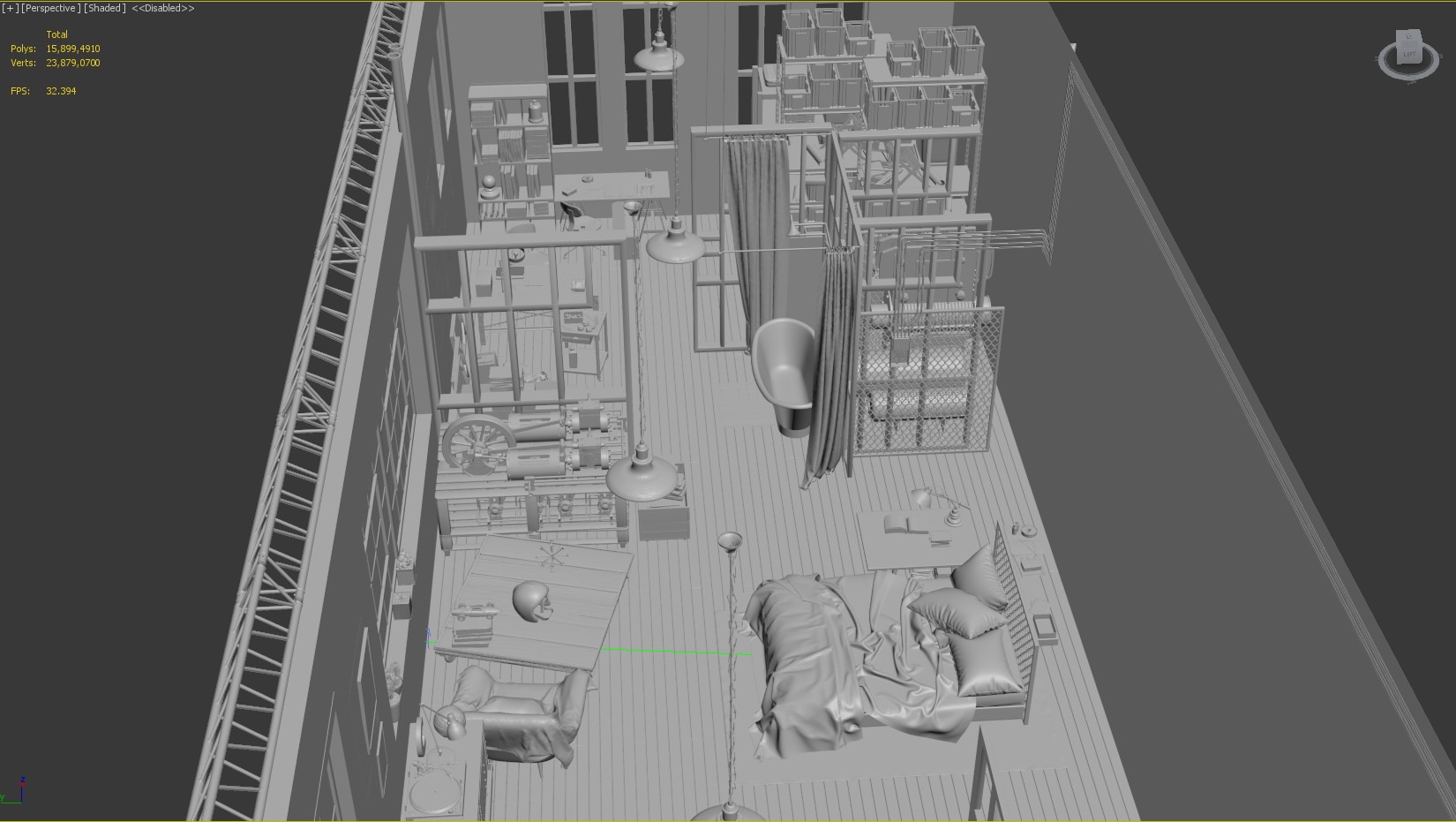 You can see how all space is divided into zones. Work zone, bedroom and relaxation area.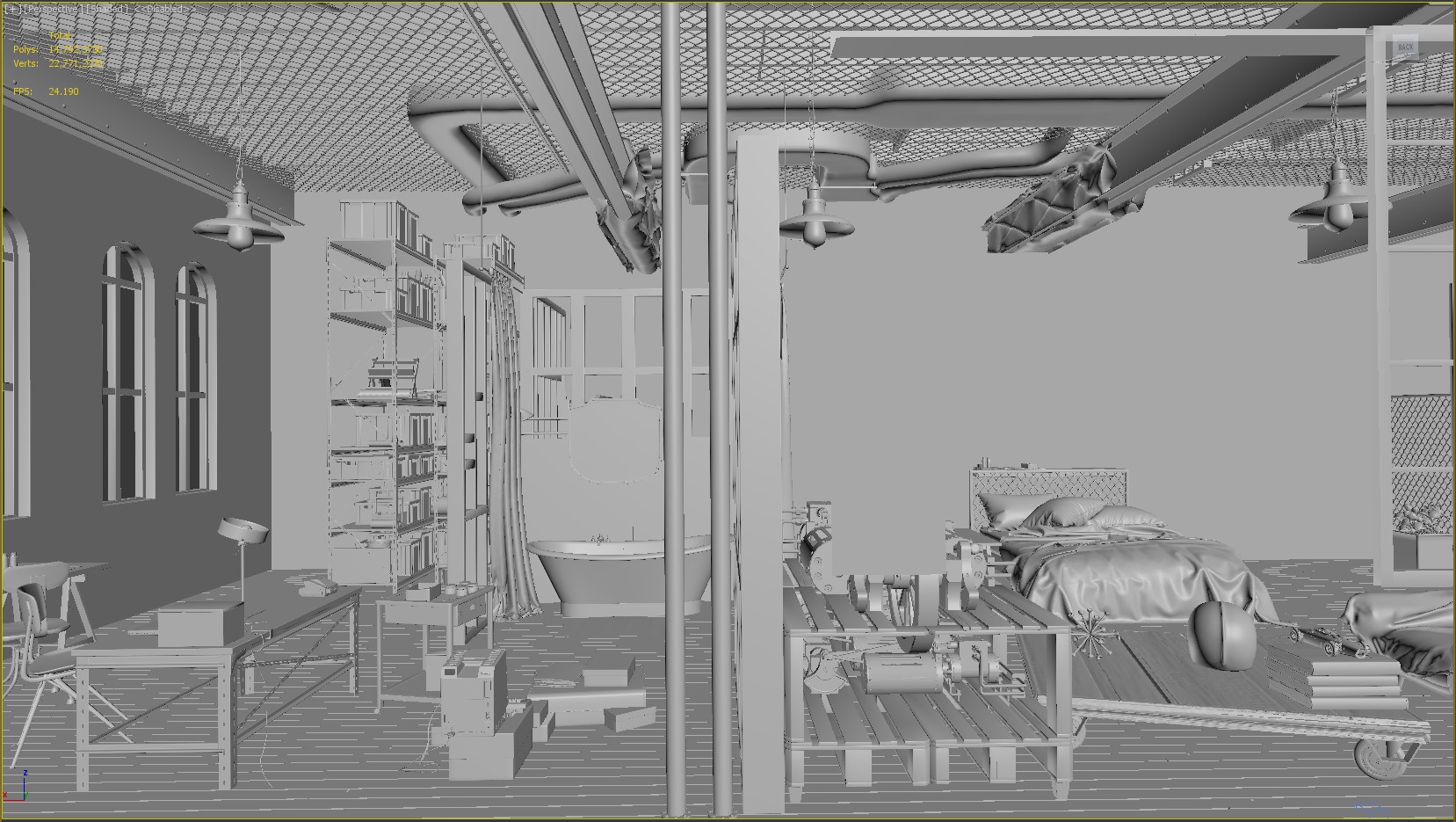 Elevation with a hidden wall.
Modeling process.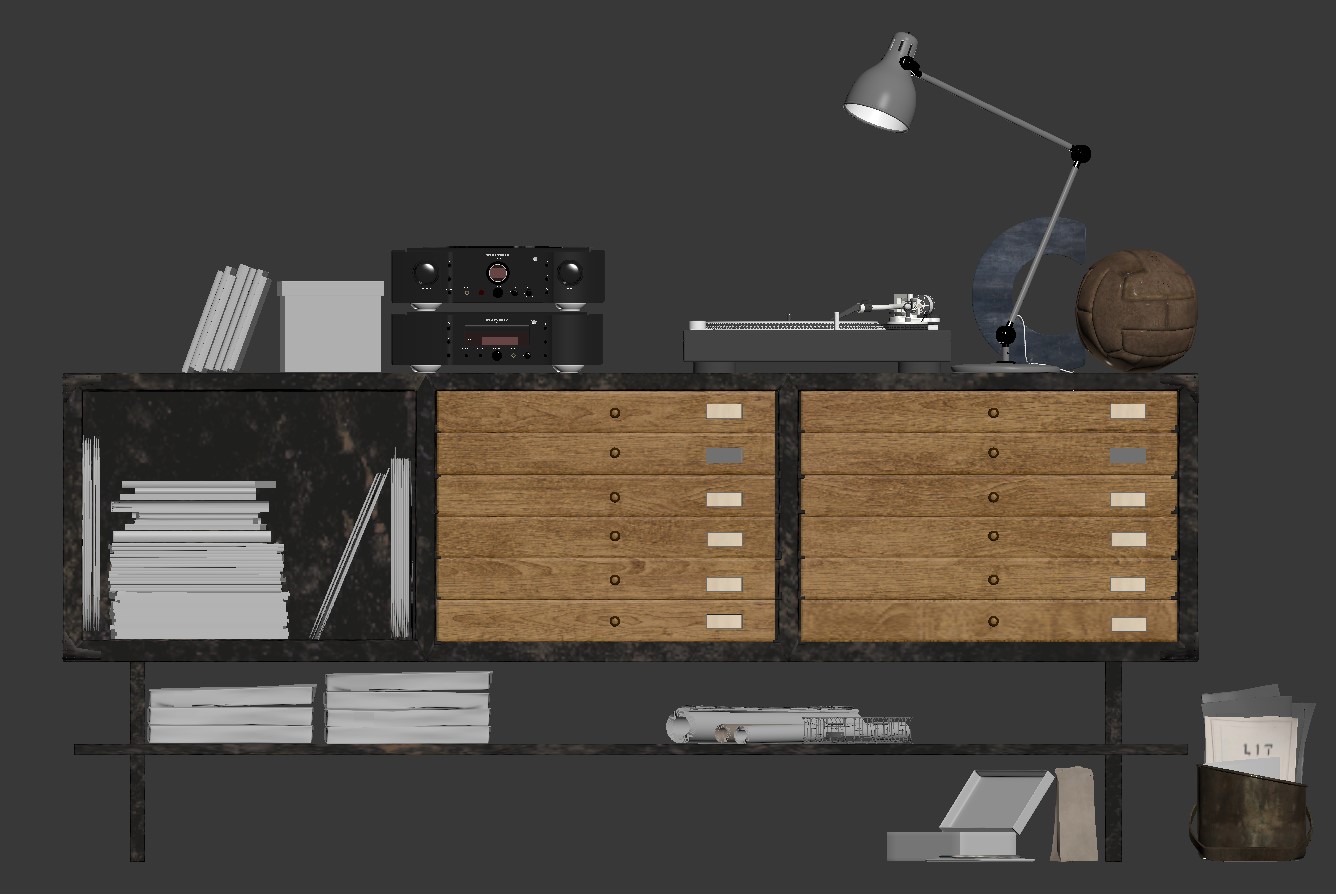 Vintage buffet with decor.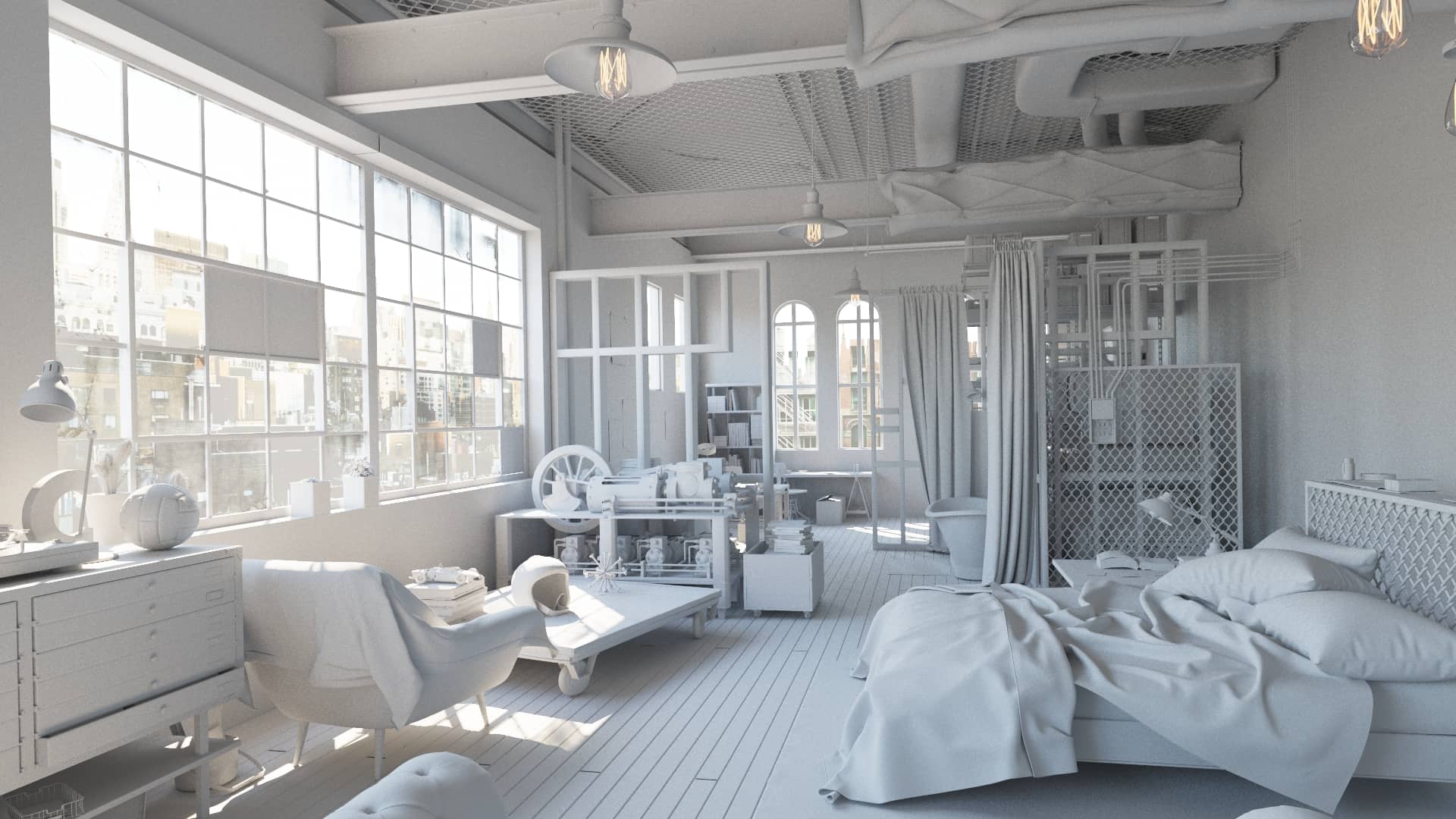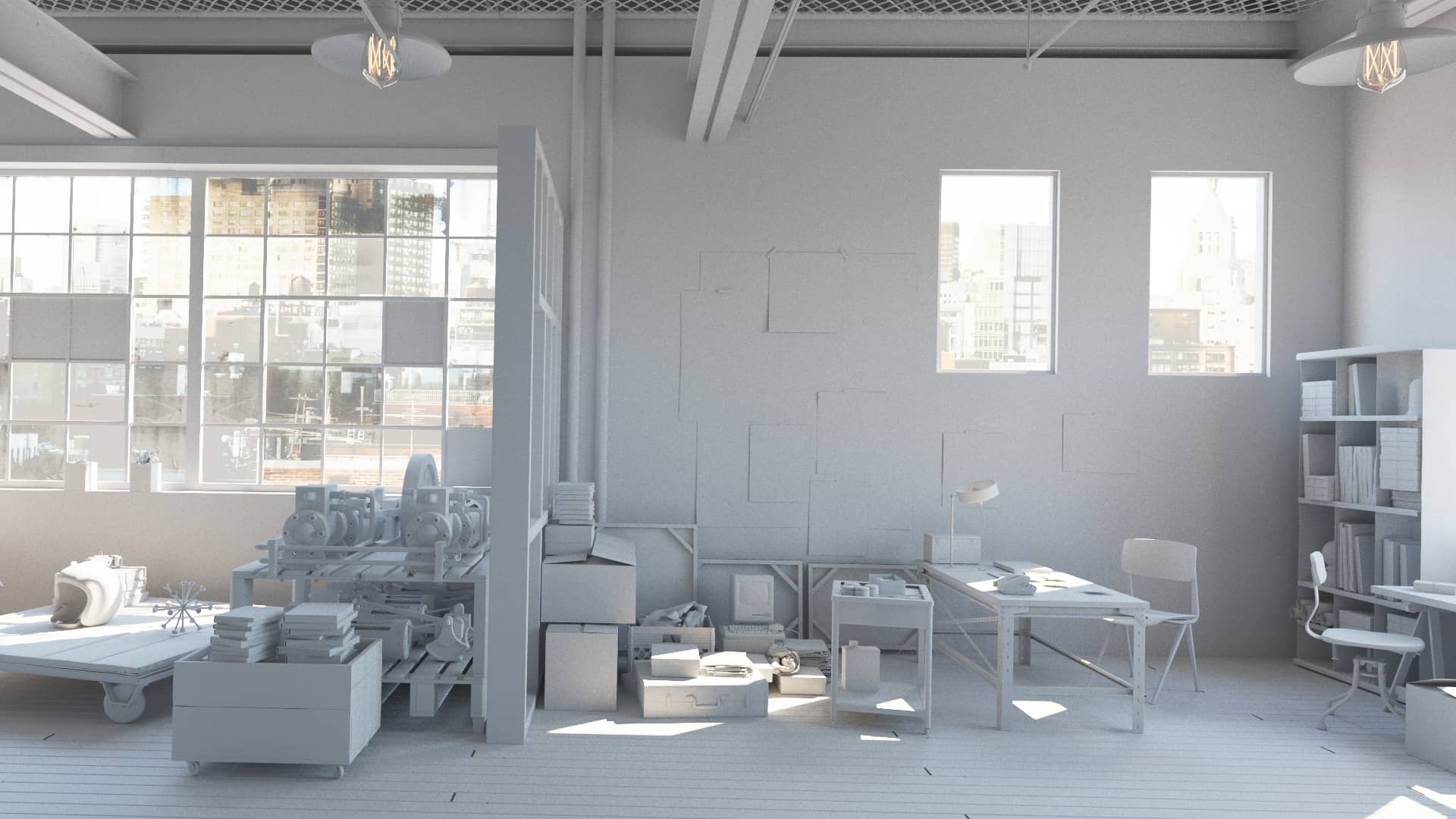 Lightning tests rendered with Corona.
Camera Settings.
Thank you very much. And what was the most challenging during this project? 
To be honest, I was so absorbed in creating the details and didn't notice any difficulties only because I really love being able to create things that are on my mind and got completely lost in the process. I was so excited to finish and show everyone my results I didn't have time to worry about challenges. :-)
So you've won RenderPoints to use our service. Congratulations! Have you used RebusFarm before?
Thank you. I have not used RebusFarm before but will definitely do so now. As I said before, it's a big time saver and I always wanted to try it!
And what are you planning to render next? Any upcoming projects you can talk about?
Yes, I think I'll use my free points to work on my animation demo reel. And after this whole loft project I got so much inspiration, I can't wait to start something new! I realized that doing interior can be very simple with the advantages of interactive rendering offered by programs like Corona, Octane and Vray. It makes creating a high-quality commercial interior much faster and easier. But I also think that people want to see more stories and creative concepts. So in my next projects I want to move away from the trend of design and commerce and turn to a more artistic approach. I want to show the interrelation between architecture and ecology and most of all, I want to tell a story: not only create a lifeless picture but give the viewer something to take with him.
Sounds very exciting! We are looking forward to your next project.
Thanks, Yarko, great to have you!
---
---