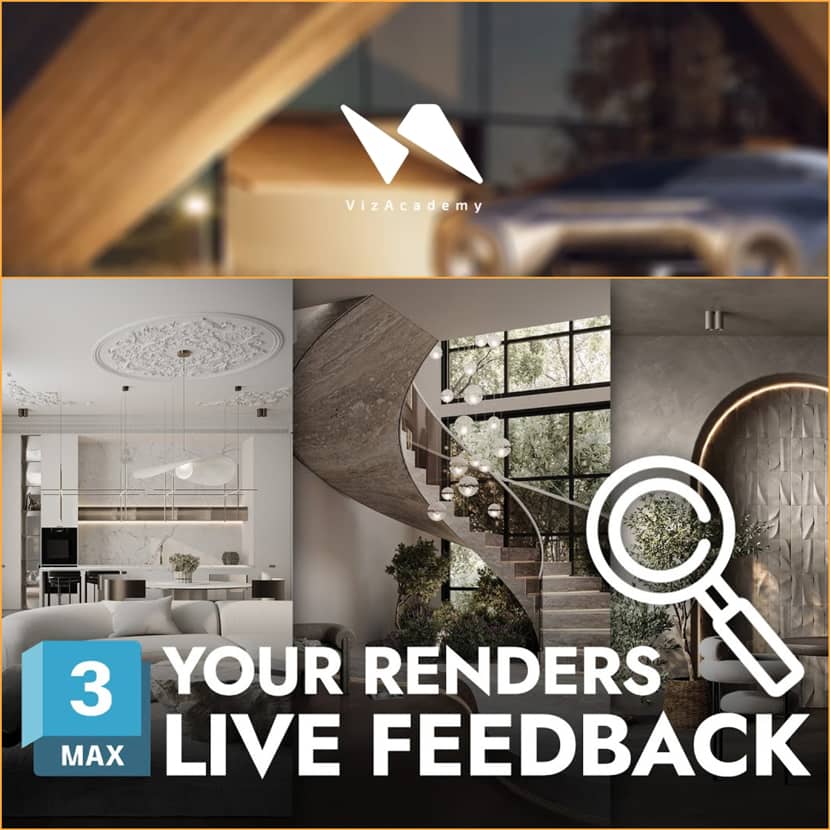 VizAcademy has recently launched a new event where it reviewed several 3D visualizations live. Many useful tips for improving your images, enjoy!
Renderings can be created in any program. In this free live webinar, VizAcademy will give you corrections on what needs to be improved to make the work look better. It encourages you to send in your renderings, which will then be reviewed by an instructor/expert in the field of 3D graphics.

What you can expect. 
- Expert tips, tricks, and techniques for 3ds Max and Corona Render.
- Live evaluations of work by our experienced host who has years of experience in the field.
- The opportunity for you, to submit your 3D renders for review and feedback. Work from other programs is also welcome!

Why should you attend?
- Gain valuable insight into the 3D industry.
- Learn from the experiences of other 3D enthusiasts
- Improve your 3D design skills and techniques.
- Get the opportunity to have your work reviewed and critiqued by an expert.

Don't miss this fantastic opportunity to become part of a vibrant 3D community, expand your knowledge, and stimulate your creativity. Whether you're a seasoned pro or just starting your 3D journey, this webinar is for you!


Don't miss the next FREE WEBINARS.
VizAcademy UK is a professional online school of architectural interior and exterior rendering.